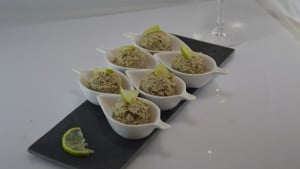 Recipe: Sardine rillettes
Summary: Sardine rillettes recipe, ideal for a dinner aperitif or even for the end of the year celebrations. You can prepare them two to three days in advance. The mixture of sardines with melted cheese is quite interesting. The cheese softens the taste of the sardines and makes them smoother. I flavored them with coriander, I love this herb which takes all its nobility when not cooked. It divinely perfumes these sardine rillettes. Of course, I advise you to choose quality sardines in oil, I had chosen a famous house, the sardines were very plump. Crush your sardine rillettes with a fork and always mix the cheese with a fork, especially not to mix. Store the sardine rillettes in a glass container, wrap them in film and let them rest in the bottom of your refrigerator, away from light. Sardine rillettes rather easy to prepare, they are however formidable and very tasty .

Recipe ingredients:
Sardine rillettes recipe for 4 people:
162 gr of sardines in olive oil
100 gr of light cream cheese
10 gr of fresh coriander.
¼ lime
1 teaspoon of Cubeb tail pepper
Instructions
Open the sardines and let the sardine oil drain for an hour.
Cut the sardines in half and remove the center bone.
Zest the lemon, then squeeze directly over the sardines.
Rinse the cilantro, then wipe dry with food paper.
Crush the pepper.
Pass the ground pepper through a Chinese, to remove the peel, then add to the preparation.
Crush everything with a fork.
Taste and adjust the seasoning.
Preparation time: 10 minutes
Cooking time: 0 minute (s)
Number of people: 4
4 star rating: 1 review
What wine to drink with: Sardine rillettes
My favorite wine for this recipe: Bourgogne Aligoté Cépage Aligoté
Temperature between 08 ° and 12 °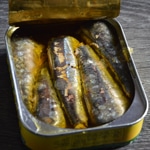 Drain the rillettes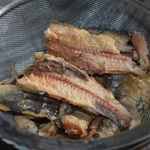 Remove ridges and skin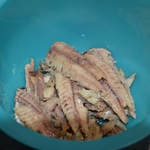 Remove leaves with forks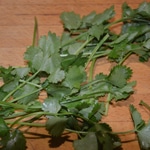 Wash the cilantro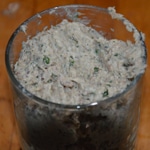 Ready to eat