Porcini and Foie Gras Sauce Recipe
Recipe for porcini and foie gras sauce, I made this sauce to accompany my porcini ravioli. A sauce that we could eat with a teaspoon, a killer and I measure my words. I cooked with the water of the porcini mushrooms, I admit that at the beginning I was a little skeptical because the color of the water of an intense black was difficult to inspire me. I had it reduced by half and added the same weight in white wine and cream, I let it reduce a little. Then before serving I finally added the ricotta and foie gras to flavor and bind my sauce. The result was astonishing, a smooth and long-lasting sauce, a pleasure to be poured with a good homemade bread. Of course this sauce can accompany a dish of fresh pasta or even homemade, but also a small poultry cooked at low temperature.
Recipe for porcini mushroom and foie gras sauce for 6 people:
Ingredients
15 cl of white burgundy wine
15 cl of liquid cream
40 gr of raw foie gras
20 gr of ricotta
10 gr of dehydrated porcini mushrooms
3 shallots
20 gr of butter
Instructions
Cover the porcini mushrooms with water the day before.
Drain the porcini mushrooms, reserving the water from the mushrooms.
Let the water stand and then slowly decant, in order to leave the impurities at the bottom of the pan.
Peel the shallots, then finely chop them.
Melt the butter in a skillet.
Add the shallots, then the porcini mushrooms.
Moisten with the water from the porcini mushrooms.
Salt and pepper.
Reduce to obtain 20 cl of porcini juice.
Add the white wine and the ricotta cream towards the end of the reduction.
Let reduce again.
Add the liver just before serving to bind the sauce.
Preparation time: 15 minutes
Cooking time: 40 minutes
Number of people: 6 people
4 star rating: 1reviews
What wine to drink with: porcini and foie gras sauce
My favorite wine for this recipe: Chardonnay de Bourgogne Grape Chardonnay
Temperature between 08 ° and 12 °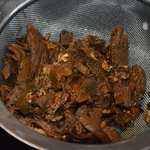 Rehydrate the porcini mushrooms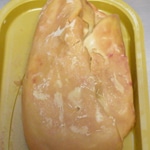 Foie gras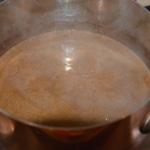 Melt the foie gras