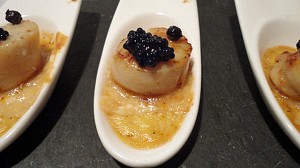 Recipe: Scallops with Pondicherry Red Pepper
Recipe for scallops with red pepper from Pondicherry, I like to work with scallops here placed on a bed of sabayon mounted with a white mâcon. I let the Pondicherry red pepper infuse for a few minutes, so that it can release its notes of fruit. Served as an aperitif in a porcelain spoon, my guests loved it. Recipe for scallops cooked in butter for a few minutes and put on a bed of sabayon.
Recipe ingredients
Recipe Noie de Saint Jacques with red pepper from Pondicherry for 4 people:
4 scallops
15 gr of butter
1 lime
1 egg yolk
20 cl of liquid cream
2 shallots
0.1 g of quality saffron
15 cl Macon white wine
1 teaspoon of lumpfish egg
1 tablespoon of red pepper from Pondicherry
Salt and pepper
Instructions
Rinse the scallops in clean water.
Peel then finely chop the shallots.
Heat the butter in a pan very slowly, sweat the shallots, they must remain translucent.
Add the white wine, salt and pepper.
Pour in a tablespoon of Pondicherry red pepper.
Let the preparation reduce by half.
Pass through a Chinese to remove the shallots and the red Pondicherry peppercorns.
Add the cream in small doses, tasting the shallot preparation.
Taste the sauce, adjust the seasoning.
Off the heat, add the egg yolk to the reduction and mix with a whisk.
Fill the spoons with the sabayon.
Place in a hot oven at 200 ° for 15 minutes as soon as the nuts are browned, stop and serve very hot.
Grill the lime slices in the butter to flavor it.
Then brown the Scallops in butter.
Place a walnut in each spoon.
A few lumpfish eggs and a grain of Pondicherry red pepper for garnish and serve.
Preparation time: 60 minutes
Number of people: 4
Cooking time: 15 minutes
5 star rating: 1 review
What wine to drink with Noix de Saint Jacques with red pepper from Pondicherry
My favorite Macon Blanc wine for this recipe Grape variety: Chardonnay
Temperature between 11 ° and 13 °
Thanks to Franck from Gout et Nature for the sample of Pondicherry red pepper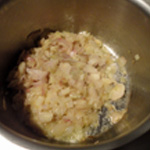 Shallots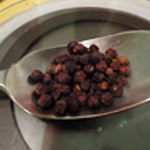 Pondicherry pepper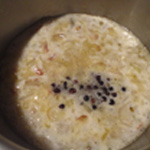 Let the red pepper infuse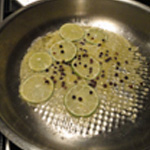 Grill the lime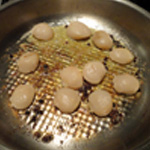 Sear the nuts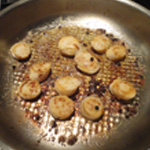 Flip the nuts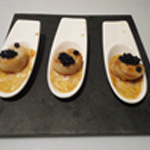 In a spoon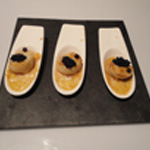 Ready to eat