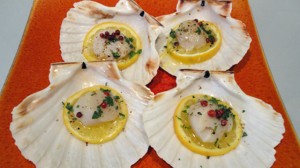 Recipe: Coquille Saint Jacques
Recipe for scallops, it's not often that you find scallops in Vesoul, they were a bit small, but I was so happy to have fresh ones. My friend had never eaten fresh scallops, so she was delighted. Easy to make scallop recipe, no sauce just a slice of lemon, the walnut is placed on it just to flavor it a little.
Recipe ingredients
Recipe for Recipe for scallops for 4 people
4 scallops
1 lemon
½ teaspoon of red berries
10g butter
3 sprigs of parsley
1 teaspoon of red berries for decoration.
Instructions
Rinse the shells with plenty of water to remove the sand;
Open the shells by cutting the muscle.
Clean the scallops.
Rinse the nuts under running tap water.
Wash and scrub the shells with a brush, then dry them with food paper.
Thinly slice the lemons, place one slice per shell;
Place a walnut on each lemon slice.
Salt and pepper with the mill
Place a few berries on the nuts.
Put a knob of butter on each nut
Rinse the parsley with water, then dry it with food paper and finely chop it.
Sprinkle parsley over the nuts.
Sow some red berries.
Place the shells on a baking sheet.
Bake in a hot oven at 200 ° grill position for 3 to 4 minutes.
Preparation time: 30 minutes
Cooking time: 3 to 4 minute (s)
Number of people: 4
4 star rating: 1 review
What wine to drink with: Coquilles de Saint Jacques
My favorite wine for this recipe: Red Patrimonio Grape Vermentino
Temperature between 07 ° and 08 °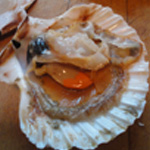 Open shell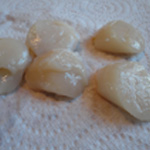 Walnut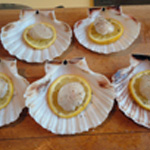 Lemon plus nuts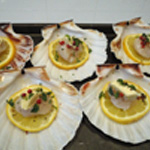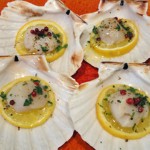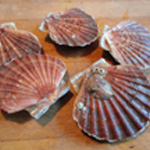 Open the shells