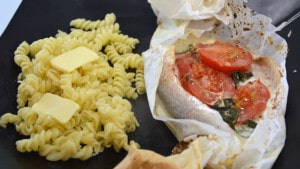 Instructions
Recipe for sea bream in foil, a fish cooked in foil that will concentrate the aromas to the delight of your taste buds. Let the fishmonger lift the fillets of your sea bream if you don't want to. Be careful with this kind of dish, it's the cooking that will determine everything, a few minutes too long and the fish is no longer tender. Here I baked it for 11 minutes in a hot oven at 180 °. I particularly like the moment when we open the papillote and let it release all its aromas. The royal sea bream in foil, takes on all its air of nobility and will not leave anyone indifferent.
Ingredients
Recipe for sea bream in foil for 2 people:
1 beautiful sea bream
4 heads of basil
1 nice tomato
1 tablespoon of heavy cream
Freshly crushed peppercorns
1 pinch of fennel seeds
Instructions
Lift the fillets of the large sea bream.
Butter a large sheet of food paper.
Place the fillets of the sea bream, after having taken care to remove the bones.
Crush the pepper.
Generously salt and pepper the fillets on the flesh side.
Place on the buttered part.
Sow the fennel seeds.
Rinse the tomato and cut into slices.
Place the tomato slices directly on the fillets.
Place the basil heads.
Pour in the cream.
Roll up each end of the foil.
Finish by wrapping lengthwise before sealing the package.
Cut off the excess foil with a pair of scissors.
Place in the hot oven at 180 ° for 11 to 14 minutes.
Enjoy hot.
Preparation time: 20 minutes
Cooking time: 14 minutes
Number of people: 2
4 star rating: 1 review
What wine to drink with Dorade royale en papillote.
My favorite wine for this recipe: Riesling Grape Riesling
Temperature between 08 ° and 10 °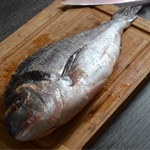 Trim the sea bream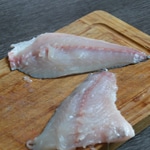 Lift the fillets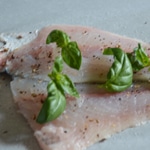 Spice
Add cream and tomato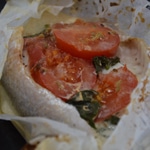 Close the papillote