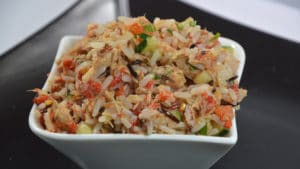 Mackerel salad recipe
A super quick recipe, I always have in my fridge enough to prepare rillettes: a box of mackerel in white wine, for an unannounced arrival of friends; this time, I took the opportunity to make this beautiful mackerel salad. I will do it again in the middle of summer, because it was very fresh, very pleasant in the mouth, with a very discreet mackerel. This fish, with its omega 3, is recognized as excellent for health, no reason to deprive yourself of it. This mackerel salad recipe will be ideal to enjoy in the middle of summer to accompany a barbecue or even a picnic under the trees. I had a friend at home who has a lot of trouble with vinegars and also mustard, I had taken a lot of risk with her, and yet she used this beautiful salad of mackerel again.
Recipe for Mackerel salad 3 people:
Ingredients
80 g of rice
2 boxes of mackerel
90 g of wild rice
50 g canned roasted red peppers
30 g of cucumber
1 pinch of Espelette pepper
5 g of fresh ginger
10 basil leaves
5 mint leaves
1 tablespoon of extra virgin olive oil (optional)
½ spoon of peppercorns
¼ lemon
Salt flower
Instructions
Cook the rice in a large volume of salted water for the time indicated on the package.
Drain it, then let it cool.
Slice the cucumber into thin slices, then into small pieces.
Rinse then dry the herbs and finally finely chop them.
Very thinly slice the ginger, then into small pieces.
Cut the roasted pepper into tiny cubes.
Open the cans of mackerel, reserving the juice.
Remove the few traces of skin and the darkest part on the fish.
Crumble the fish with a fork, then add it over the rice in a salad bowl.
Add herbs, ginger and roasted pepper.
Crush the peppercorns, then add it to the salad.
Zest the ¼ lemon on the rice.
Add all the aromatics from the cans of mackerel.
Pour half of the fish juice, stir.
Taste and add more juice if necessary, be discreet with the juice.
Place in the refrigerator until ready to serve.
Sprinkle with a little fleur de sel just before serving.
Preparation time: 10 minutes
Cooking time: 17 minutes
Number of people: 3
4 star rating: 1 review
What wine to drink with: Mackerel salad
My favorite wine for this recipe: Saumur Cépage Chardonay, Sauvignon and Chenin blanc
Temperature between 08 ° and 10 °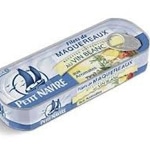 Open the box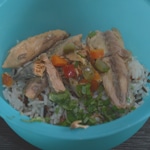 Mix with the rice