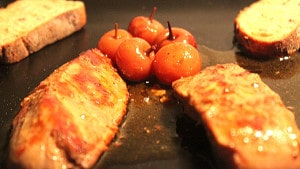 Recipe: Seared foie gras with sour cherries
Recipe for pan-fried foie gras with sour cherries, for this divine recipe I took advantage of a promotion in my hypermarket which offered fresh lobs of duck liver. Seared foie gras, I particularly like this savory and sweet gourmet recipe. Recipe for pan-fried fresh foie gras with morello cherries or if you don't have one, you can use cherries. But frankly I like these cherries which have stayed for several years in a good kirch. The juice is tasty, it is impregnated with cherries and it goes wonderfully with pan-fried foie gras. A union of reason to consume without any restriction.
Recipe ingredients
Seared foie gras recipe with sour cherries for: 4 people
1 lobe of foie gras
300 g cherries in brandy
1 teaspoon ground pepper
1 teaspoon of Guérande salt
4 tablespoons of brown sugar
15 cl of cherry juice
Instructions
Slice your foie gras without denerving it in the direction of the width.
Salt and pepper.
Take a pan and bring up to medium temperature (the liver is sensitive to heat, no need for a too hot pan).
Gently place the foie gras in the pan.
Turn it over quickly (10 to 15 seconds per side), as soon as it has taken on a nice color, take it out.
Let the liver rest under several layers of absorbent paper.
This preparation can be done a few hours before the service, or even the day before.
Return to temperature the pan where your foie gras has rejected its beautiful fat, remove too much fat.
Place your pieces of foie gras in the pan as soon as it is hot.
As soon as they are hot, deglaze with the alcoholic juice of the cherries
Use hot plates and pour 1 or 2 tablespoons of juice over your foie gras.
Preparation time: 30 minutes
Cooking time: 06 minutes
Number of people: 4
4 star rating: 1 review
which wine to drink with: Pan-fried foie gras with morello cherries
My favorite wine for this St joseph blanc recipe Grape variety: Roussane et Marssanne (ermitage Blanc)
Temperature between 12 ° and 15 °
Thanks to Patrice for the pictures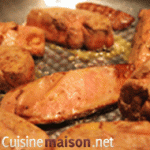 Sear the foie gras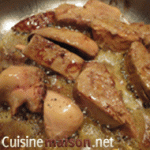 Color it well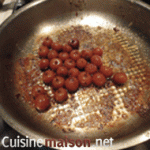 Reserve the foie gras add the cherries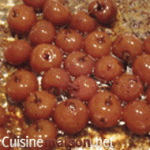 Let confine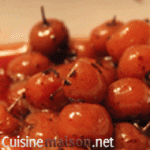 Zoom cherries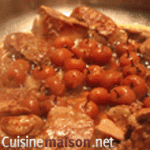 Add the foie gras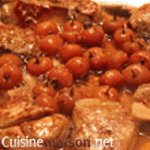 Zoom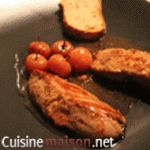 Plate