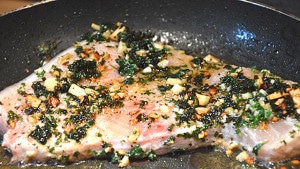 Recipe: Shark with parsley
Shark recipe with parsley, at home we love this kind of fish. Depending on the region, it will be shark or sea calf, it's the same thing. We opted for a parsley, it's true after the parties and the sauces, it was good to calm things down a bit, we loved this shark with parsley. The shark is also suitable for cooking on the barbecue, it will just be necessary to raise it well with a peppercorn, just crushed at the last moment. We tasted it with Clothilde in Chambéry, there are great rays of fish and yet it is the mountain.
Recipe ingredients
Shark recipe with parsley for 2 people:
1 large shark steak or sea veal (400 gr)
1 small onion
3 cloves of garlic
20 g parsley
2 tablespoons of olive oil
40g butter
Instructions
Rinse the shark steak under the tap.
Dry the steak with food paper.
Rinse the parsley under water, then dry with food paper.
Finely chop the parsley.
Peel the onion and garlic cloves.
Finely chop the onion.
Heat the oil and butter.
Sear the shark steak in the hot fat.
Add the onions, parsley and pressed garlic to each side of the steak.
Season generously with salt and pepper.
Preparation time: 5 minutes
Cooking time: 4 to 6 minutes
Number of people: 2
4 star rating: 1 review
What wine to drink with: Shark with parsley
My favorite wine for this recipe: Riesling Grape Riesling
Temperature between 08 ° and 10 °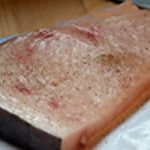 Rinse then salt and pepper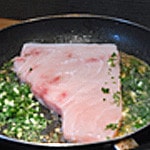 Sear in the garlic and parsley