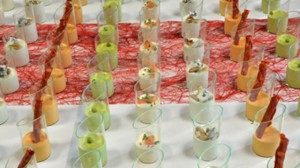 Recipe: Smoked salmon panna cotta
Smoked salmon panna cotta recipe, ideal to start a meal with friends. Be careful not to salt at the start, often salting the salmon is enough for the preparation. Beautiful little verrines to serve well chilled, decorated with a small cube of salmon, you can also add salmon eggs to have a little more color. The softness of the cream will wonderfully soften the salty taste of the smoked salmon, I used basic salmon for this recipe.
Recipe ingredients
Smoked salmon panna cotta recipe for 20 people: 20 mini verrines of 5 cl
200 g smoked salmon
3 tablespoons of parmesan
1 liter of cream
1 teaspoon of raz el hanout
2 g of agar agar
Instructions
Cut the salmon lengthwise.
Then cut it into small cubes, reserve 20 cubes for decoration.
Mix the rest of the salmon.
Heat the cream, add pepper, do not add salt because the salmon is already salted.
Add the raz el hanout.
Add the salmon and the Parmesan and wait for the first broth then turn off the heat.
Let infuse 30 min
Mix the panna cotta, taste and salt if necessary.
Return to temperature from the first broths, add the agar-agar
Assemble your verrines once the panna cotta is lukewarm, so as not to leave any traces of steam on the verrines.
Let them rest overnight in the refrigerator.
Preparation time: 20 minutes
Cooking time: 30 minutes
Number of people: 20
4 star rating: 1 review
What wine to drink with: Smoked salmon panacotta
My favorite wine for this recipe: Crémant du Jura Cépage Chardonnay; Savagnin white
Temperature between 08 ° and 10 °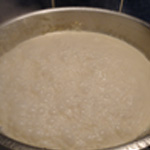 Heat the cream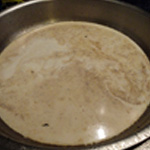 Add the agar agar
Slice the salmon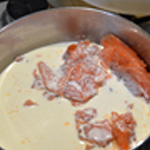 Salmon in cream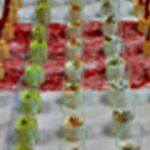 Zoom