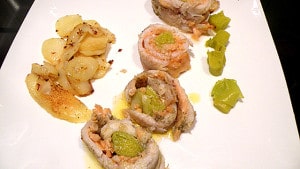 Recipe: Sole fillet in a salmon coat
Fillet of sole recipe in salmon dress, cooking fillet of sole deserves supervision, the fillet of sole must cook on a low heat. Sole fillet recipe rolled with smoked salmon, the salmon will deliciously flavor the sole fillet. I am classifying this fillet of sole recipe in the easy even very easy recipes. We don't find sole fillets all the time, this time they were on sale, I took the opportunity to present my sole fillets in salmon dress, with a good sauce, it can make a nice starter for the holidays. the end of the year. I love and still take great pleasure in cooking fish and especially like there when it is fresh.
Recipe ingredients
Sole fillet recipe in salmon dress for 4 people
4 soles or 4 fillets
200 g smoked salmon
4 leek whites
50 g butter
Salt and pepper
Instructions
Cook the leek whites in boiling water.
Have your fishmongers lift the fillets, place them flat on a cutting board.
Salt and pepper.
Cover each fillet with a slice of smoked salmon, then a heart of leek.
Roll the fish over the leek core and prick with a toothpick to hold everything together.
Cut the protruding pieces of leek.
Cook your roll in a pan with the butter.
Leave to color well and turn your roll over so that it is well colored on each side.
Just before serving, slice your roll with a sharp knife and enjoy.
Preparation time: 10 minutes
Cooking time: 10 minutes
Number of people: 4
4 star rating: 1 review

What wine to drink with: Filet de sol in salmon coat
My favorite wine for this recipe: Savennières (Dry white) Chenin blanc grape
Temperature between 10 ° and 11 °