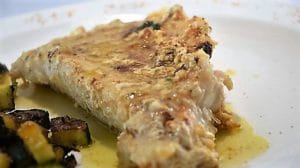 Pan-fried Wolf Recipe Recipe.
Instructions
With one-sided cooking, it will be a little crunchy on the bottom and soft above, this will develop the flavors of fish. No sauce for this sea bass in the pan, just a few aromas released by the pepper, I had chosen Séchouan pepper. I like to eat grilled fish during the hot weather, this time I took advantage of a promotion from my hypermarket. The still crunchy zucchini bring a little sunshine to this dish, ideal for an evening for two. Wolf to the pan, you can add sorrel, I had prepared it and I forgot it, sear it just a few seconds before serving.
Pan-fried wolf recipe for: 2 people
Ingredients
400 g of wolf
50 gr of butter
2 tablespoons of olive oil
4 small zucchini
Instructions
Rinse the fish under the tap, then wipe dry with food paper.
Rinse the zucchini then cut into small cubes
Peel the garlic, then squeeze it.
Peel and finely chop the onion.
Heat the pan with 1 tablespoon of oil.
Sear the onions and the pressed garlic.
Add the zucchini and sear them over a high enough heat so that the water evaporates easily.
Reserve the courgettes that are still a little crunchy.
Add the rest of the oil and the butter.
Place the sea bass in the hot fat and baste the fish regularly under a very low heat.
Season generously with salt and pepper with crushed pepper at the last moment.
The fish will be cooked on top with the hot fat from the basting.
Add the zucchini at the last moment to bring them up to temperature.
Preparation time: 10 minutes
Cooking time: 12 minutes
Number of people: 2
4 star rating: 1 review
What wine to drink with: Wolf in the pan
My favorite wine for this recipe: Bandol blanc grape Ugni and Sauvignon blanc, Clairette blanche
Temperature between 08 ° and 10 °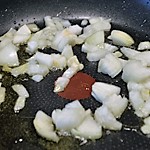 Sear the onions

Sear the zucchini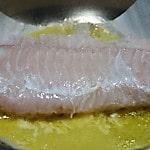 Place the wolf in the hot butter

Watered it generously

Zoom