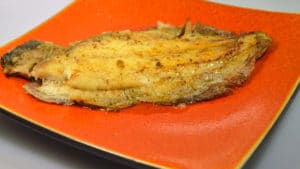 Sole meunière recipe
Summary: Sole is my daughter's favorite fish, as soon as our fishmonger presents some beautiful sole I buy it. All you have to do is raise the sole fillets, or serve it whole on the plate. For Cooking the sole, I chose a meunière butter, which is rather quick to cook, be careful, the sole is fragile as soon as it is cooked, I have lightly floured it, it sticks better with the flour. Nothing is easier to cook a sole, plus your fishmonger will prepare it for you. A nice sole meunière for a light meal, we love it and frankly we really enjoyed it. When this fish is affordable you can freeze them, it tolerates freezing well, that way an unexpected guest and hop a sole meunière. Sole meunière recipe for: 4 people
Ingredients :
2 soles
50 gr of butter
1 tablespoon of flour
Salt and pepper
Instructions
Wash the soles, then dry them with food paper.
Heat a pan with the butter.
Lightly flour the fish.
Gently place the soles in the foaming butter for 2 to 3 minutes.
Season with salt and pepper on both sides.
Turn the sole over as soon as the fish has taken on a nice color.
Season with salt and pepper on both sides.
Heat the plates and place the sole as soon as the cooking is finished.
Preparation time: 10 minutes
Cooking time: 3 to 6 minutes
Number of people: 2
4 star rating: 1 review
What wine to drink with: Sole meunière
My favorite wine for this recipe: Meursault blanc Cépages Chardonnay
Temperature between 14 ° and 16 °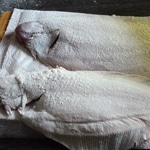 Flour the sole
Grill the sole