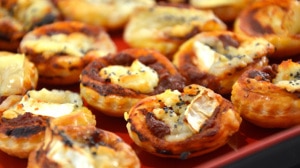 Recipe: Tomato and goat cheese puff pastry
Tomato and goat cheese puff pastry recipe, small cakes for the aperitif full of color with beautiful contrasts, I like the taste of this tomato sauce reduced with all its humidity. Here the marriage with the goat takes an interesting proportion the sweetness of the goat cheese with the acidity of the tomato, the puff pastry that we come back for… I love all these puff pastry, I like to make them but I especially like enjoy them with friends, a real treat, no more peanuts at home, only puff cakes like these tomato and goat cheese puff pastry.
Recipe ingredients
Tomato and goat cheese puff pastry recipe for 90 reductions:
3 boxes of 390 gr of peeled tomatoes
3 goat cheese logs
3 onions
4 cloves of garlic
1 tablespoon of rice vinegar
4 sugar cubes
1 teaspoon of chili puree
3 puff pastry rolls
Instructions
Prepare the tomato paste as here.
Add the rice vinegar and the chili puree.
Add the sugar.
Roll out the very cold puff pastry.
Cut with a cookie cutter barely bigger than your prints.
Push the dough into the indentations.
Pierce the dough three times with a fork to keep it from swelling.
Brown with egg yolk.
Pass the tomato preparation in a pocket fitted with a non-serrated nozzle.
Generously fill the tarts.
Cut the goat cheese logs in half lengthwise.
Then thinly slice into ½ slices
Place a ½ round on the puff pastry.
Sprinkle a little poppy seeds.
Bake in a hot oven at 200 ° rotating heat for 15 minutes.
Preparation time: 20 minutes
Cooking time: 15 minutes
Number of people: 8
5 star rating: 1 review
What wine to drink with: Tomato and goat cheese puff pastry
My favorite wine for this recipe: Bergerac rosé Grape variety Cabernet Franc and Sauvignon, Merlot
Temperature between 08 ° and 10 °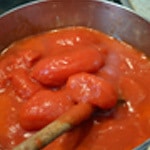 Heat the tomatoes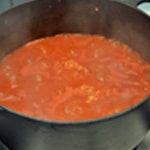 Let reduce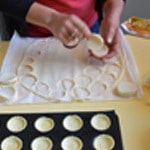 Cut out the footprints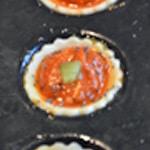 Garnish with tomato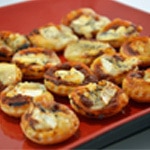 Zoom