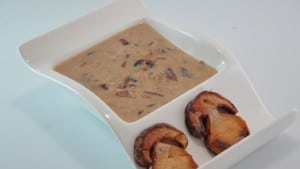 Cep soup recipe
Recipe for ceps soup, I waited patiently for the arrival of the boletus on the market, this morning my market gardener wore magnificent small boletus. I love this mushroom, I particularly love toasting it in hot butter and as soon as it has taken on beautiful colors, it is cooked and ready to be tasted. Well I do not differentiate between porcini mushrooms and boletus, moreover I would say, hoping I'm not mistaken, that boletus and porcini mushrooms are the same mushrooms. Of course some people are lucky enough to find them directly in the woods, offered by Mother Nature, others even traffic them. I added some meadow mushrooms, because when preparing my mushrooms I decided to keep pieces and not to grind my soup. I'm lucky to have friends who run a farm with animals, so I bought raw milk for my porcini soup.
Recipe ingredients:
Cep soup recipe for 5 people:
400 gr of boletus
120 gr of meadow mushrooms
25 cl of raw milk
1 tablespoon of sauceligne (maizena)
1 large shallot
50 gr of butter
1 tablespoon of olive oil
Instruction:
Scrape the porcini stems and rub the buds with a small brush.
Rinse the meadow mushrooms in a little water and vinegar.
Peel and finely chop the shallot.
Heat 25 g of butter with the oil in a large saucepan with the shallot.
Add the mushrooms, stirring regularly.
When the mushrooms have rejected their waters and are well colored.
Add milk and the same amount of water.
Season generously with salt and pepper.
Simmer for 20 minutes
Heat the rest of the butter in a pan and sear the porcini slices.
Pour the soup into heated bowls.
Place a grilled porcini mushroom in each bowl.
What wine to drink with: Cep Velouté
Preparation time: 30 minutes
Cooking time: 20 minutes
Number of people: 5
4 star rating: 1reviews
What wine to drink with: Cream of porcini mushrooms
My favorite wine for this recipe: Beaujolais Fleurie Grape Gamay
Temperature between 13 ° and 14 °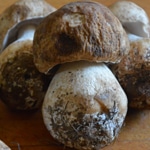 Brush the porcini mushrooms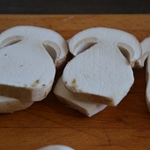 Slice off the prettiest feet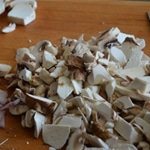 Finely chop the leftovers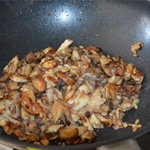 Sear in the butter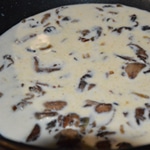 Add milk