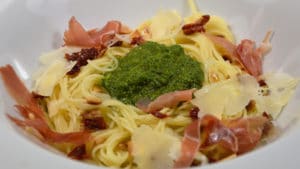 Arugula Pesto Spaghetti Recipe
We love pasta a lot, but you already know that! I had prepared an arugula pesto for this recipe. I really like all the pesto variations, here a nice green, slightly tart, but it's arugula, the pine nuts will sweeten this spaghetti recipe with arugula pesto a little. If you don't make your pasta, use small spaghetti, which cooks in 3 or 4 minutes, this way they won't get too much pesto and you will have a nice balance. No meat tonight, the spaghetti with arugula pesto will be enough for our dinner.
Spaghetti with arugula pesto recipe for 4 people:
Ingredients
400 gr of fresh homemade spaghetti or 300 gr industrial
200 gr of raw ham
250 g arugula pesto
8 petals of sun-dried tomatoes
3 tablespoons of olive oil
80 g of Parmesan to grate
40 g pine nuts
Instructions
The day before, prepare the arugula pesto by following the recipe here.
Make the homemade pasta, if you are the one making it like here.
Grill the pine nuts in a dry pan.
Let the pasta dry overnight.
Cut the sun-dried tomatoes into small cubes.
Thinly slice the raw ham into a small rectangle.
Grate the shaved Parmesan with a fine grid.
Cover them with quality olive oil and let them marinate for 1 to 2 hours or even overnight.
Cook the pasta just before eating it 2 to 3 minutes is enough for the spaghetti.
Drain the pasta at the end of cooking and oil them with a spoonful of olive oil.
Place a generous portion of hot spaghetti on the hot plate.
Sprinkle the parmesan strips and the tomatoes in oil.
Hollow out the spaghetti in the center.
Pour a nice ladle of arugula pesto.
Add the ham and pine nuts.
Enjoy very hot.
What wine to drink with: Spaghetti with arugula pesto
My favorite wine for this recipe: Cours Cheverny blanc grape Romorantin
Temperature between 08 ° and 10 °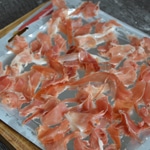 Grill the ham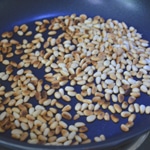 Grill the pine nuts