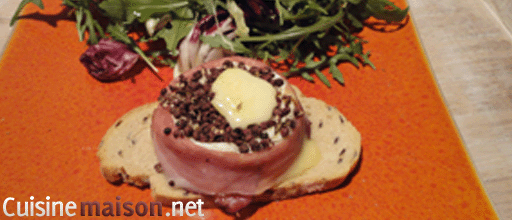 Roasted St Marcellin recipe with Séchouan pepper
Summary : Séchouan pepper, here is one of my favorite peppers I love to create a recipe with Séchouan pepper. Recipe from Saint Marcellin, a deliciously melting cheese barely spiced up, the king of the departments of Isère and Drome. Recipe of Saint Marcellin in the oven, it will melt on the bread and flavor it. Saint Marcellin roasted with ham, for a nice starter to consume with friends, you can serve it with a nice green salad.
Recipe St Marcellin roasted with Séchouan pepper for 4 people:
Ingredients :
8 Saint Marcellin
4 slices of Bayonne cured ham
Salt and pepper
4 teaspoons of Séchouan pepper
8 slices of flax bread
Instructions
Cut the raw ham slices in half lengthwise.
Surround the Saint Marcellin cheese with the strips of raw ham, taking care to cover well by lifting the cheese a little. Smooth the ham well so
that it adheres to the cheese.
Distribute the Séchouan pepper on top of the cheese, taking care to compact the seeds a little without crushing the cheese.
Place each wrapped cheese on the slice of bread, taking care not to have a hole in the slice.
Place your preparation on a baking sheet covered with parchment paper.
Place in a hot oven at 180 ° for 8 minutes.
Be careful at the end of cooking, the cheese will be runny, handle with care.
Preparation time: 10 minutes
Cooking time: 8 minutes
Number of people: 4
4 star rating: 1 review
What wine to drink with: St Marcellin roti with Séchouan pepper,
My favorite wine for this recipe: Chénas (Beaujolais), Grape variety: Gamay
Temperature: between 14 ° and 15 °