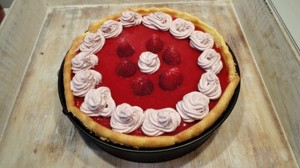 Recipe: Strawberry Charlotte
Strawberry Charlotte recipe, strawberry charlotte recipes with the arrival of spring, we see them on the markets, the first arrive in Spain. A recipe with strawberries, the first on the markets for the happiness of children, the first seasonal fruits. Strawberry cookie with homemade spoon cookies, this complicates the recipe a bit, but if you are short on time use store-bought cookies to make your strawberry charlotte.
Recipe ingredients
Strawberry Charlotte recipe for 6 people
500 g of Strawberries
50 cl of fluid cream
200 g sugar
100 g icing sugar
8 g of agar agar or 6 gelatin sheets
15 cl of water
Mirror glaze
150g strawberries
45 g sugar
1 lemon
2 gelatin sheets
540 g of homemade spoon biscuit.
Biscuit In The Spoon
500 g of homemade biscuit.
Instructions
Clean the strawberries then dry them on food paper.
Blend your fruits with 50g of icing sugar in a blender.
Make a syrup with the sugar and water, add the agar agar, let it boil a little and let it cool
Beat the whipped cream into a firm whipped cream, be careful, the cream must be very cold, add 50 g of icing sugar at the end.
Mix the cooled syrup with the red fruit coulis
Gently fold in the whipped cream and place in the refrigerator.
Cut out the bottom of your charlotte on baking paper and a band the height of your mold.
Line your charlotte mold as well as the bottom.
Place your spoon cookies in the bottom of the pan, then the edges.
Incorporate the fruit mixture into the cake.
Chill for at least 3 hours
To make your icing
Prepare your gelatin by letting it soak in cold water.
Mix the strawberries with the juice of a lemon.
Incorporate the gelatin into the fruit coulis then the sugar, letting it boil for one minute.
Switch to very fine Chinese.
Let cool and pour gently over your charlotte as soon as the preparation is lukewarm.
Put your charlotte back in the fridge overnight.
Preparation time: 40 minutes
Cooking time: 0 minutes
Number of people: 12
5 star rating: 1 review
What wine to drink with: Strawberry Charlotte
My favorite wine for this recipe Crémant du jura Grape variety: Savagnin; Chardonnay
Temperature between 8 ° and 9 °