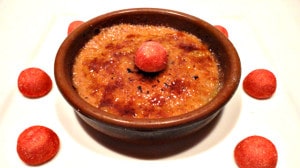 Recipe: Tagada strawberry crème brûlée
Easy crème brûlée recipe with Tagada strawberries, childhood memory with tagadas. You will need a blowtorch to burn off the creams. Here's a recipe to make when you have a lot of kids at home, but you'll find adults love tagada strawberry crème brûlée.
Recipe ingredients
For Tagada strawberry crème brûlée for 4 people:
12 agada strawberries
1/2 liter of 33% quality liquid cream
6 egg yolks and 1 whole
4 tablespoons of brown sugar
Instructions
Heat the cream.
Add the tagada strawberries, once boiling, remove from heat.
Separate the yellows from the whites.
Add the egg yolks to the cream, then the whole egg, whisk to mix well.
Cut into strips one strawberry per ramekin.
Divide among your ramekins.
Put in a bain-marie, cold water at the start, hot oven at 220 °, for 30 minutes.
Be careful, cooking is the hardest in crème brûlée.
It should never boil very hard, just a few air bubbles on the surface and your cream is ready.
Let cool and put in the fridge.
Distribute the brown sugar on the ramekins, burn it with a blowtorch so that it caramelizes and makes a small crust.
Preparation time: 10 minutes
Cooking time: 30 minutes
Number of people: 4
5 star rating: 1 review
Which wine to drink with: Strawberry Tagada Creme Brulee
My favorite wine for this recipe: Alsace Pinot Gris, Grapes: Pinot Gris
Temperature: between 10 ° and 12 °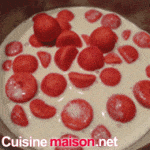 Cream and tagada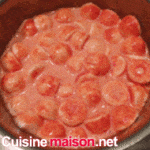 Strawberries melt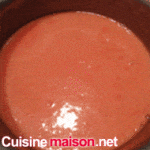 Strawberries melted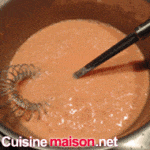 Mix well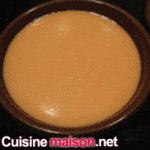 Pour into the ramekins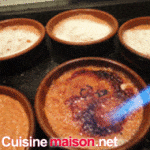 Burn with a torch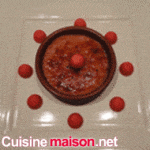 On plate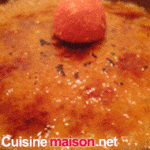 Zoom