Tagliatelle recipe between sea and land
Recipe: Calamari recipe, here is pasta with squid and chorizo paste, a rather explosive marriage, we devoured them. I have always liked cooking calamari, failing to be by the sea, they are everywhere today for everyone's enjoyment. With homemade pasta, this recipe will not leave people indifferent, the chorizo will diabolically color this recipe of Tagliatelle between sea and land, deliciously tasty with this beautiful sausage coming directly from Spain, it goes wonderfully with tagliatelle. Do not keep all the fat from the chorizo, just a spoon to sear the shallots and your Tagliatelle between sea and land recipe will take on beautiful colors.
Recipe of Tagliatelle between sea and land for 4 people
Ingredients :
350 g of fresh pasta
440 g of squid (30% loss to reach 350 g)
150 g of chorizo (mild or strong)
1 red pepper
1 green pepper
20 cl of Cote du Rhône
1 onion
1 shallot
½ teaspoon ground cumin
1 sprig of thyme
3 sprigs of parsley
Salt and pepper
Instructions
Cut the chorizo into thin slices.
Clean and cut the squid into small slices.
Peel the garlic and shallot, then cut into small cubes.
Wash the pepper, remove the scallop, the seeds and cut into strips.
Rinse and chop the parsley.
Heat a frying pan.
Add the chorizo under a low heat, discard the fat, reserving a tablespoon.
Add the shallots, and cook for 5 minutes, still under a low heat.
Add the squid.
Add the pepper and cook for 5 minutes.
Add the cumin and thyme and continue cooking for 5 minutes.
Pour the wine into the pan and reduce for 5 minutes.
Add your fresh and cooked pasta in a dish.
Season with pepper and salt.
Sprinkle with chopped parsley.
Preparation time: 45 minutes if you make your pasta fresh
Cooking time: 4 to 5 minutes
Number of people: 4
5 star rating: 1 review
What wine to drink with: Tagliatelle between sea and land
My favorite wine for this Côtes du Rhône (Red) recipe (Grape varieties: Cinsault, Grenache noir, Mourvèdre, Syrah)
Temperature between 13 ° and 14 °
I thank Violette and Patrice for the photos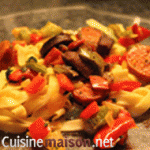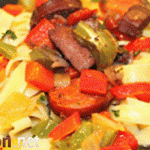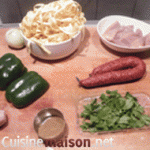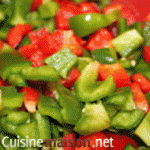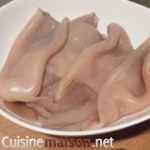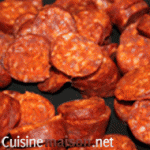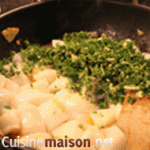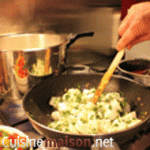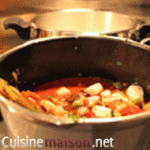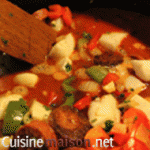 More recipes:
Tagliatelle with chorizo

Tagliatelle primavera

Fresh tagliatelle

Tagliatelle with parsley Pascal
Hide reactions

Succulent mixture of meat and fish that changes and the peppers anyway I love it !!

super the photo it makes you want! And even if I'm not a fan of chorizo it's good!
Your reactions / questions / tips: Cancel reply
Remark
Name *
Email *
Website
</p