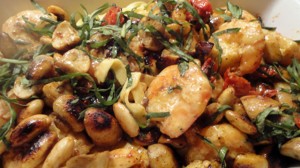 Recipe: Tagliatelle with prawns
Recipe for tagliatelle with shrimps, I served these tagliatelle with peeled and grilled almonds in a pan. Tagliatelle recipe for the enjoyment of the whole family, my children love to taste tagliatelle with fish, meat or vegetables. Grilled almonds and cherry tomatoes to complete this pasta dish, we tasted them in a few minutes, the crispness of the toasted almonds and the softness of the cherry tomatoes enhanced the tagliatelle with prawns.
Recipe ingredients
Recipe Tagliatelle with prawns for 4 people:
600 g frozen large shrimp
500 g of tagliatelle
8 cherry tomatoes
1 sprig of basil
6 large button mushrooms
1 tablespoon of olive oil
62 g of blanched almonds
60 g pine nuts
60 g parmesan
50 g butter
½ teaspoon of Espelette peppers
1 clove of garlic
1 touch of sweet paprika.
Instructions
Rinse and dry the basil, then finely chop it with a knife.
Rinse then cut the cherry tomatoes in half.
Scrape and then cut the button mushrooms in four.
Peel the garlic then cut it finely.
Heat a pan with the oil, add the garlic then the mushrooms and quickly sear them, then set aside.
Place the cherry tomatoes cut sides on the still hot pan but off the heat and allow to grill gently.
Thaw the shrimp under the tap of hot water.
Wipe the shrimp with clinging paper.
Heat the salted water for the tagliatelle.
Heat a pan with the butter.
Sear the shrimp in the hot butter.
Spread the chilli and paprika over the shrimp.
Turn the shrimp over and lower the heat so that the paprika does not burn.
Add the cream once the shrimp have taken on a nice color.
Heat the almonds and pine nuts in a dry pan.
Reduce and thicken the sauce.
Cook the tagliatelle.
Sprinkle with basil, almonds and pine nuts just before serving.
Preparation time: 45 minutes if you make your pasta fresh
Cooking time: 4 to 5 minutes
Number of people: 4
5 star rating: 1 review
What wine to drink with: Tagliatelle with prawns
My favorite wine for this recipe: Buzet blanc Grape variety: Sémillon; Sauvignon Blanc; Muscadelle
Temperature between 08 ° and 10 °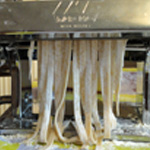 Cut the dough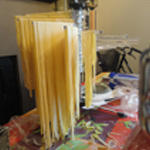 Dry the tagliatelle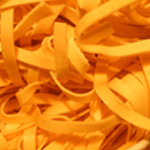 Dried tagliatelle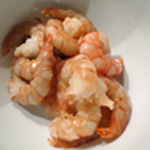 Shell the prawns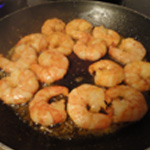 Grab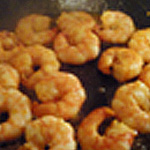 Flip the prawns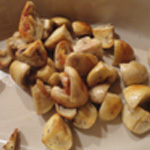 Sear the mushrooms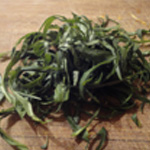 Chop the basil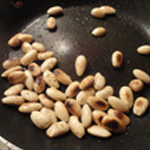 Grill the pine nuts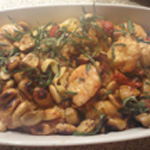 Sprinkle the basil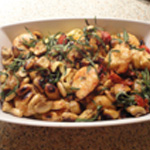 Zoom<img src="/wp-content/uploads/2021/09/6868310314952864942.jpg" class="aligncenter"