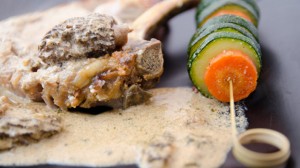 Recipe: rack of veal with morels
Rack of veal a piece of meat with a subtle nutty flavor. Veal in the oven, cooking at light temperature to let the rack of veal take on the colors. Veal with morels a fine marriage of tender meat with queen mushrooms, rack of veal with morels a dish worthy of special occasions. Rack of veal in a casserole dish and morels in fresh cream for our lunch at Easter, tender meat, the rack of veal could not resist the attack from the guests, a real wonder, the plates came back all clean, no more trace of veal, morels, sour cream…. Easy to make rack of veal recipe, the biggest job in this recipe is for the butcher. Morel sauce a sauce for veal
Recipe ingredients
Rack of veal with morels for 8 people:
50g of dried morels
75 g butter + 50 g
3 tablespoons of olive oil
6 chicken shallots
1 bunch of flat-leaf parsley
37.5 cl of crémant du jura
1 liter of fluid cream
1 rack of veal with 6 ribs
1 teaspoon of 5 berry pepper
Coarse salt
Instructions
Have your butcher prepare the rack of veal, here are the instructions to give him:
Separate the meat from the ribs on 4 cm
Pre-dice face down, cut the rib bones at the base to facilitate cutting.
Tie the square so that it holds together during cooking.
Take out your rack of veal one hour before cooking in the refrigerator.
Prepare the morels like here.
Chop the smaller morels with a knife.
Peel the shallots, then slice them.
Rinse the parsley, then dry it with food paper.
Chop the parsley.
Heat a large saucepan with the butter 75 g and a spoon of olive oil.
Sear the shallots without letting them take color
Add the chopped morels, then the whole morels.
Cover with white wine and cook for a few minutes.
Reduce the wine by half.
Add the sour cream and simmer while the rack is cooking.
Heat the oil and butter in the casserole dish.
Place the rack of veal in another casserole dish.
Coarsely crush the peppercorns with a mortar
Salt with coarse salt and add the pepper
Heat the casserole dish on the fire with two tablespoons of olive oil.
Sear the square on all sides for 5 minutes.
Place the square in the cast iron casserole dish at the bottom of the oven.
Heat the oven high and low (be careful, no rotating heat) to 200 °, for thirty minutes.
Baste three or four times during strong cooking.
Lower the oven to 150 ° and cook for two more hours, baste regularly.
Stop the oven and place the rack of veal in a dish, then the dish in the oven.
Deglaze the casserole dish on the heat with a little water to collect the cooking juices.
Add the juices to the morel sauce.
Cut out your rack of veal and serve immediately.
Preparation time: 30 minutes
Cooking time: 2 hour (s)
Number of people: 4
4 star rating: 1 review
What wine to drink with rack of veal with morels
My favorite Aloxe Corton wine for this recipe Grape variety: Pinot noir
Temperature 15 between ° and 16 °
Thanks to Thibaut and Janos for their photos
Thanks to Léonie, Nathalie, Mathilde, Emilie, Thibaut for their patience
Thanks to my friend Sam for his super rack of veal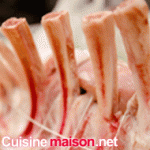 The rack of veal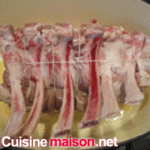 Grasp the rack of veal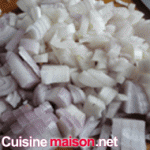 Chopped shallots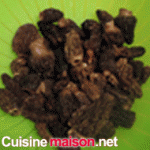 Morels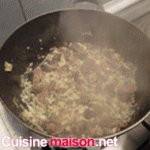 Sear the morels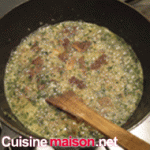 Add white wine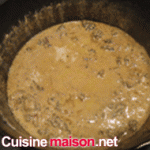 Add the cream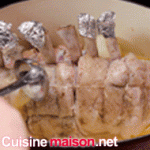 Water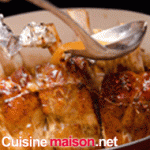 Always water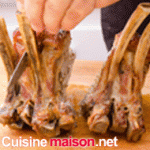 Cut between the ribs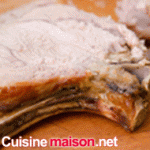 Veal rib<img src="/wp-content/uploads/2021/09/7247276299481754091.jpg" class="aligncenter"