Recipe: Tagliatelle with Roquefort
Recipe for tagliatelle with Roquefort, we had a great Sunday lunch with this homemade dish, fresh pasta with homemade sauce, all washed down with an excellent 2009 Saint Emilion. A plate of tagliatelle to eat with friends, I like to cook fresh pasta, I also like to do them. You are going to tell me another pasta recipe, but at home we like it too much. Here is the autumn which arrives, I will go back to ravioli, I have already planned some tests with meat, fish and of course with cheese.
Recipe ingredients
Recipe of Tagliatelle with Roquefort for 5 people:
500 g of flour for the tagliatelle
500 g of Roquefort sauce.
30 young basil sprouts.
10 nuts
50 g of Roquefort
Salt and pepper
Instructions
Make the tagliatelle like here.
Prepare the Roquefort sauce as here.
Rinse the basil leaves under the tap.
Crack the nuts.
Cut the Roquefort into very small cubes
Cook the tagliatelle for 2 to 3 minutes in a large volume of boiling salted water.
Gently heat the Roquefort sauce.
Divide the tagliatelle among the heated plates.
Pour the sauce over the hot tagliatelle.
Scatter the crumbled Roquefort over the tagliatelle.
Add the nuts.
Gently place the young basil leaves.
Taste.
Preparation time: 45 minutes if you make your pasta fresh
Cooking time: 4 to 5 minutes
Number of people: 5
5 star rating: 1 review
What wine to drink with: Tagliatelle with Roquefort
My favorite wine for this recipe: Saint Emilion Cépage Cabernet franc, Cabernet sauvignon, merlot
Temperature between 15 ° and 16 °
A small thank you for the raw ham to Amandine who will recognize this.
Thank you also to Thibaut, for this great tasting moment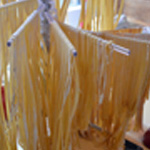 Dry the tagliatelle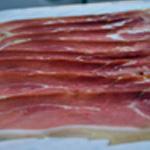 Ham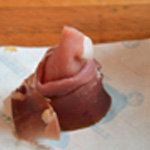 Shaped ham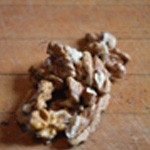 Crack the nuts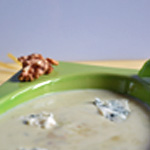 Roquefort sauce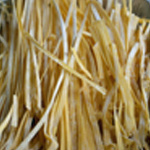 Tagliatelle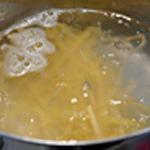 Cook the pasta in a large volume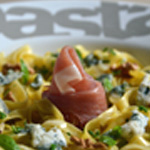 Zoom