Tapenade recipe with peppers and black olives
Another tapenade, but it's true that at home the aperitifs always last a little, I particularly like these intense moments of exchanges. I had peppers in oil jars and I was looking for an original recipe for the aperitif, what is good with this kind of product is that you can keep it for several weeks in your refrigerator. Tapenade of peppers and black olives you will let your guests spread their toast, each according to his habits will cover more or less the toast.
Tapenade recipe with peppers and black olives for 500 g of tapenade
Ingredients :
280 g canned Greek black olives
170 g canned roasted peppers
30 g anchovies in oil
60 g capers
2 cloves garlic
¼ small onion
¼ teaspoon ground gray pepper
15 cl of olive oil
Instructions
Drain the peppers.
Roughly chop the black olives with a knife.
Roughly chop the capers with a knife.
Finely chop the peppers with a knife.
Roughly cut the anchovies with a knife.
Mix the olives, anchovies, capers and peppers in saccades, so that the dough goes down to the bottom of the mixer.
Add the garlic and onion cut into pieces
Season with pepper and gradually add the oil while mixing until desired consistency is achieved.
Reserve in the refrigerator.
Preparation time: 15 minutes
Cooking time: 0 minutes
Number of people: 500 g of tapenade
4 star rating: 1 review
What wine to drink with: Pepper and black olive tapenade
My favorite wine for this recipe: Côte du Roussillon blanc Cépage Maccabeu
Temperature between 8 ° and 10 °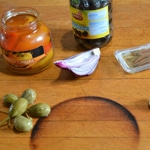 Ingredients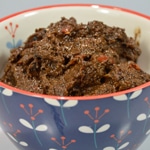 to mix together