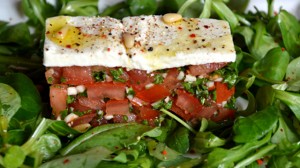 Recipe: Tomato tartare
Tomato tartare recipe, let's go, the sun is finally here, here is another way to consume tomatoes, I used small stainless steel rectangle, to mount my tartare. The tomato is my favorite vegetable, of course tomatoes from the garden are often exceptional in color and flavor, but in the summer market there are some good ones. At home we eat a lot of raw or cooked tomatoes, with mozzarella or as here with herbs and a little olive oil.
Recipe ingredients
Tomato tartare recipe for 2 people:
4 nice ripe tomatoes
1 mozzarella ball
5 sprigs of parsley
2 cloves garlic
2 tablespoons of olive oil.
1 teaspoon of pine nuts
1 pinch of Espelette pepper
Salt and pepper
Instructions
Rinse the tomatoes and parsley in clean water.
Remove the stems from the parsley, leaving only the leaves.
Squeeze the parsley.
Peel the garlic.
Finely chop the garlic and parsley with a knife.
Seed the tomatoes, keeping only the flesh without juice and without seeds.
Combine the seeded tomatoes and the winged parsley.
Add a spoon of olive oil.
Season with salt and pepper, taste and rectify if necessary.
Cut the mozzarella into slices.
Assemble the tartare in a rectangular mold.
Cut the tomato slice to the size of the rectangle.
Gently place a slice of mozzarella on the tartare.
Pour the last spoonful of olive oil over the cheese.
Salt and pepper.
Sow a little Espelette pepper.
Preparation time: 30 minutes
Cooking time: 0 minutes
Number of people: 2
4 star rating: 1 review
What wine to drink with: Tomato tartare
My favorite wine for this recipe: Corbière rosé Cépage Carignan; Grenache noir; Cinsault
Temperature between 12 ° and 14 °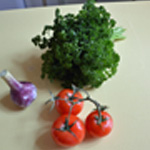 Ingredients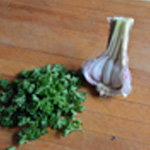 Wash the parsley
Chop parsley and garlic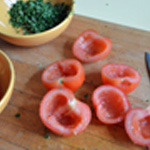 Seed the tomatoes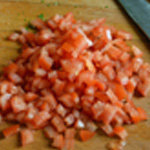 Crush the tomatoes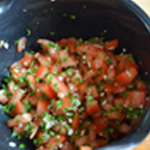 Mix parsley and tomatoes
Assemble in a stainless steel mold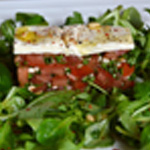 Zoom