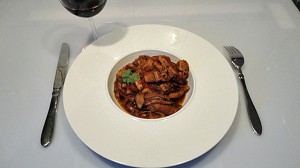 Recipe: Tripe in red wine
Recipe for tripe with red wine, to change a little tripe with white wine or tomato, here for this recipe I still had a little red wine. Fashionable tripe, whitening tripe and tripe recipe white wine or red wine, it all depends on the moment and desires. Baking tripe in the oven in a cast iron casserole dish is ideal. With tripe, boiled potatoes or even cooked in the casserole dish if you have room, there you will see it is paradise, these potatoes that melt on tripe in red wine, a marvel.
Recipe ingredients
Recipe Tripe in red wine 6 people:
1 kg of tripe
20 g butter
1 tablespoon of oil
100 g of bacon
3 carrots
3 onions
3 leek whites
3 cloves of garlic
3 cloves
1 calf's foot cut in half,
½ l of red wine
1 liter of water
5 cl of calvados
3 sprigs of thyme
3 bay leaves
3 bards of bacon to cover your casserole dish
2 teaspoons of coarse salt
Nutmeg powder
1 large pinch of gray pepper
1.2 potato agate
Instructions
Order Tripe from your butcher, they are sold already cleaned and often bleached otherwise.
Blanch in boiling salted water with the calf's foot for 5 minutes.
Cool the tripe under the tap the pieces of meat, drain them, dry them with absorbent paper.
Cut the meat into large strips.
Clean and peel the carrots, cut them into slices.
Rinse the leeks, then slice the
Peel the onion, prick it with the 3 cloves.
Peel the shallots and the 3 garlic cloves.
In an oven-safe cast iron casserole dish, pour the oil and butter.
Leave to heat, brown the bacon cut into lardons, then the carrots, leeks, onions and garlic,
Turn with a wooden spoon, add chopped garlic, thyme, bay leaf, salt and pepper.
Add a hint of nutmeg and, finally, add the tripe and the calf's foot. Stir well, drizzle with white wine and broth.
Pour the calvados, the tripe should be covered with liquid.
Cover with bacon bards, cover the casserole dish and put in the oven at 150.
Simmer gently for at least 5 hours, ideally overnight cooking and leave the tripe to rest in the oven until morning.
In the morning degrease
Then put the potatoes on the bard of bacon and cook for another 2 h 30 min. Calculate according to the time of day you want to eat.
Preparation time: 40 minutes
Cooking time: 5 hour (s)
Number of people: 6
4 star rating: 1 review
What wine to drink with: Tripe in red wine
My favorite wine for this Pinot noir Alsace recipe (Grape varieties: Pinot noir)
Temperature between 10 ° and 12 °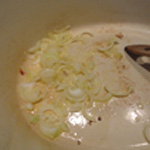 Melt the onions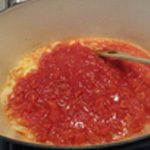 Add the tomato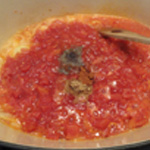 Spices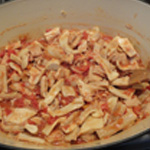 Add the tripe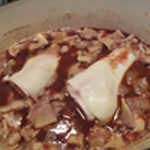 Calf's foot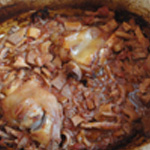 Cooked tripe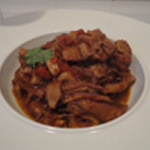 Plate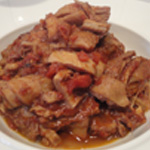 Zoom<img src="/wp-content/uploads/2021/09/3691854788273908195.jpg" class="aligncenter"