Recipe: Tripe in white wine
White wine tripe recipe or fashionable tripe depending on the region you are in. The easiest way to blanch tripe is to ask your butcher for bleached tripe for your white wine tripe recipe. Cooking tripe in the oven is a slower cooking than under the fire and much more regular in addition if you use a convection heat. With the tripe, boiled potatoes or better cooked potatoes with the tripe.
Recipe ingredients
Recipe Tripe in white wine 6 people:
1 kg of tripe
20 g butter
1 tablespoon of oil
100 g of bacon
3 carrots
3 onions
3 leek whites
3 cloves of garlic
3 cloves
1 calf's foot cut in half,
½ l of white wine
1 liter of water
5 cl of calvados
3 sprigs of thyme
3 bay leaves
3 bards of bacon to cover your casserole dish
2 teaspoons of coarse salt
Nutmeg powder
1 large pinch of gray pepper
1.2 potato agate
Instructions
Order Tripe from your butcher, they are sold already cleaned and often bleached.
Blanch in boiling salted water with the calf's foot for 5 minutes.
Cool the pieces of meat under the tap, drain them, dry them with absorbent paper.
Cut the tripe into large strips.
Clean and peel the carrots, cut them into slices.
Rinse the leeks then slice them.
Peel the onion, prick the 3 cloves.
Peel the shallots and the 3 cloves of garlic.
In a cast iron casserole dish, pour the oil and the butter and let heat.
Cut the bacon, then brown it in the casserole dish.
Add the carrots, leeks, onions and garlic, turn with a wooden spoon.
Add the chopped garlic, thyme, bay leaf.
Season with salt and pepper. Add a hint of nutmeg.
Add the tripe and the calf's foot. Stir well, drizzle with white wine and broth.
Pour the calvados: the tripe must be covered with liquid.
Cover with bacon bards, cover the casserole dish and put in the oven at 150.
Simmer gently for at least 5 hours, ideally overnight cooking to let your preparation rest a little in the oven.
Add the potatoes on the bacon bard and cook for another 2 hours 30 minutes.
In the morning, remove the fat from the juice and serve hot with the potatoes.
Preparation time: 40 minutes
Cooking time: 7 hours and 30 minutes
Number of people: 6
4 star rating: 1 review (s
What wine to drink with: Tripe in white wine
My favorite wine for this Chablis (White) recipe (Grapes: Chardonnay)
Temperature between 7 ° and 8 °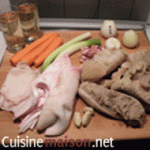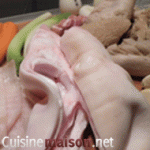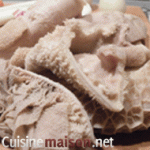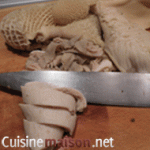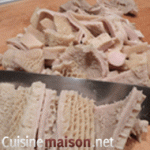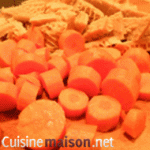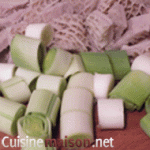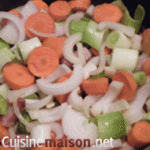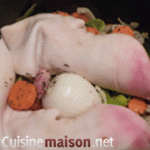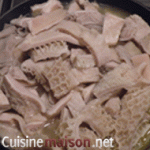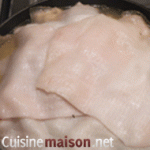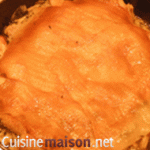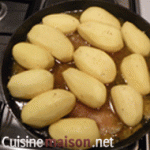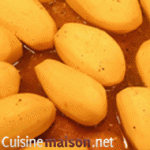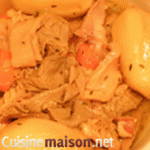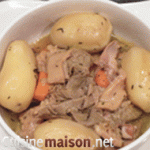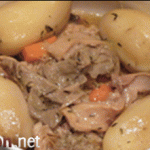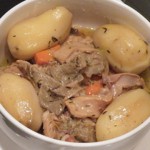 More recipes:
Tripe in red wine

Caen-style tripe

Gut

Cider tripe Pascal
Hide reactions

Very good the tripe but I had trouble finally seasoning 7 hours of cooking on the plate but had to do it again despite the fact that these work good evening and thank you

@Philippe
thank you for your comment, what I do now with the guts I sterilize them and you eat them as you want.
Well, I want to come and taste the sauerkraut ……

Hello,

My wife has just made it to us, as there are only two of us left at home, there were some for 5 days, as for couscous or chicken in the pot.
This always adds two to three pig's trotters.

Next Sunday, sauerkraut …

Well done for the site.

@FABBRI
Thank you for your comment and compliment, I'm glad you liked these guts.
With such a comment from the head of the Chateau de Roche, I'm ready for another test.
Thank you to you Catherine for all that you taught me, it is always a pleasure to cook with you at the castle.
A +
Kisses
Pascal

mmmmhhh… successful seasoning, nice harmony of flavors (vegetables, wine, tripe, smoked bacon…), soft texture… with a touch of balsamic, what a delight!
well done ! we could put this recipe in a "scoundrel and feast" menu! to sting !!
kisses to the cook, chef of the gourmet tripe!
catherine

Thank you for your visit, I am glad to know that my site is suitable for you

Great guts! I did not know this site, it deserves to be consulted often

Great recipe !! very simple and delicious.
Thank you for this very well done site.

Even I took it back

We thought to put some in the freezer for the next time, but nothing left, we scraped the bottom of the casserole dish.
To your pots!

If you like tripe, don't hesitate, it's extra.
A little long to prepare but the result is worth it, we eat it for gluttony!
Your reactions / questions / tips: Cancel reply
Remark
Name *
Email *
Website
</p