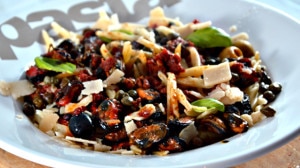 Recipe: Liguri trofe with mussels
Recipe Trofie Liguri with mussels, pasta from the Barilla brand, I love these pastas, they are very pleasant in the mouth. Here accompanied by mussels and olives they all take their value. I love pasta when it's flavored with lots of ingredients giving it a new flavor with every fork of the fork. We loved the Trofie Liguri with mussels.
Recipe ingredients
Liguri trofe recipe with mussels for 4 people:
500g of Liguri trofie
350 g cooked mussels
4 tablespoons of basil pesto
50 g of parmesan shavings
20 black olives
20 green olives
100 g capers
200g tomato bruschetta sauce
20 basil leaves.
Instructions
Cook the pasta in a large volume of boiling water.
Drain at the end of cooking, and keep warm.
Heat the pesto in a pan.
Add the mussels, then the green and black olives.
Pour in the mussels.
Add the capers just before serving.
Heat the bruschetta sauce in a double boiler (or microwave)
Pour the pasta into the plates.
Generously add the sauce to the mussels.
Pour in bruschetta without stirring.
Divide the parmesan into shavings.
Sprinkle a few basil leaves.
Enjoy immediately.
Preparation time: 10 minutes
Cooking time: 18 minutes
Number of people: 4
4 star rating: 1 review
What wine to drink with: Liguri trofie with mussels
My favorite wine for this recipe: Alsace Sylvaner Cépage Sylvaner
Temperature between 08 ° and 10 °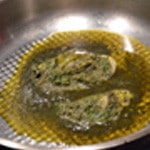 Heat the pesto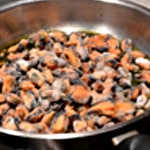 Heat the mussels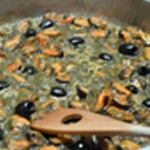 Mussels and pesto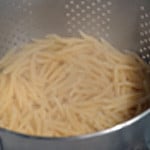 Cook the pasta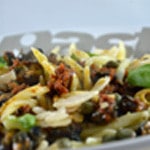 Zoom