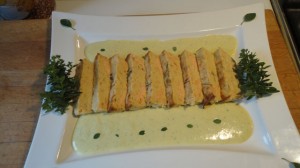 Recipe: Trout terrine
Light trout terrine for a nice starter with the arrival of summer, it will be served with a light sauce flavored with dill. Smoked trout terrine To flavor your trout terrine even more, you can whip the egg whites to resemble a trout mousseline. Cold fish terrine recipe, change the fish in your fish terrine by varying your mixtures you will modify the flavors.
Recipe ingredients
Recipe Trout terrine for 8 people
300 g of trout fillet,
200 g of whiting fillets,
300 g of salmon
30 g of salted butter,
400 g of whipping cream,
3 whole eggs or 4 whites,
18 g of salt
2 g of pepper,
1 g of nutmeg,
1 g of cayenne pepper,
3 shallots, finely chopped and melted
Instructions
Peel the shallots and finely chop them.
Color the shallots in 20 g of salted butter.
First, finely mix the fish (+4 smoked fillets), insisting on obtaining a perfect puree.
Beat the egg whites so that they are quite firm (this operation will make your muslin more airy, but it is not mandatory).
Incorporate with the flesh of the fish, the shallots, the seasoning and the cream then mix again.
Add the egg white delicately
If this terrine must be unmolded, butter it gracefully.
Fill the terrine halfway.
Arrange the remaining salmon fillets cut lengthwise, in the middle and finish the filling, tamp with a spoon.
Bake in a bain-marie, in an oven preheated to 150 ° th 5 then reduce its temperature to 120 ° th 4 as soon as the terrine is in the oven.
Stop cooking at this temperature, as soon as the crust of the terrine is golden brown.
This terrine is eaten cold, accompanied by a light dill sauce.
Preparation time: 40 minutes
Cooking time: 35 minutes
Number of people: 8
4 star rating: 1 review
What wine to drink with: Trout terrine
My favorite wine for this Pouilly-fuissié recipe Grape variety: Chardonnay
Temperature between 12 ° and 15 °
Thanks to Catherine from Château de Roche for this recipe.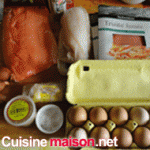 Ingredients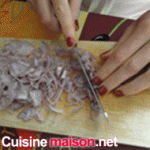 Chopped shallots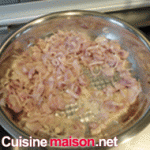 Sear the shallots
Slice the whiting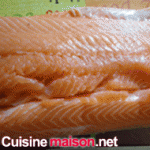 Slice the salmon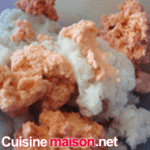 Mix the fish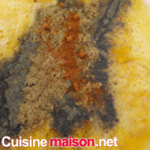 Add the spices and the egg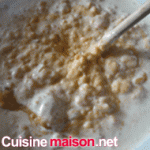 Mix the cream with the fish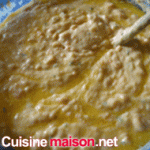 Mix the egg with the cream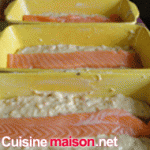 Fill the terrines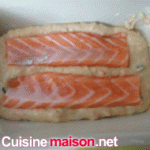 Zoom on salmon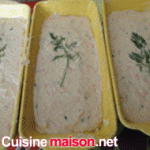 Ready-to-cook terrine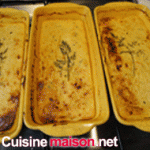 Cooked terrines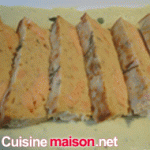 Overview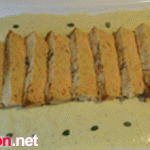 <img src="/wp-content/uploads/2021/09/6034575435246971983.jpg" class="aligncenter"