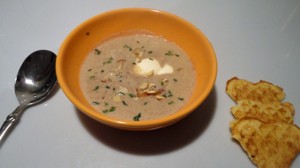 Recipe: Cream of chestnut soup
Recipe for chestnut velouté or chestnut cream, it's autumn and the full season of chestnuts. With this chestnut soup you will pleasantly surprise all your guests, children and adults, here is another way to consume chestnuts. Cream of chestnut soup probably one of my last soups before winter.
Recipe ingredients
Chestnut velouté recipe: for
1 kg of chestnut
16 hazelnuts
1 liter of chicken broth
15 cl of heavy cream
Instructions
Split the chestnuts with the tip of a sharp knife.
Boil the chestnuts for 7 minutes from the first broth.
Remove the skins when the chestnuts are lukewarm.
Prepare the poultry broth.
Pour the chestnuts into the broth and simmer gently for 25 minutes.
Salt and pepper.
Remove the first skin.
Mix the velouté.
Add a spoonful of heavy cream in the center of the plates.
Finely chop the hazelnuts and distribute them among the plates over the soup.
Preparation time: 30 minutes
Cooking time: 25 minutes
Number of people: 6
4 star rating: 1reviews
Which wine to drink with Velouté de Chestnut:
My favorite wine for this recipe Chestnut velouté: Crémant d'Alsace Grape variety: Pinot blanc and gris, Auxerrois
Temperature between 8 ° and 10 °
Source of information: Elle kitchen sheet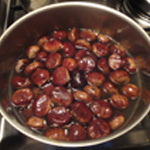 Scald the chestnuts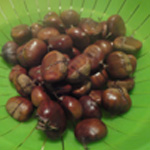 Let cool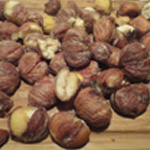 Remove the skin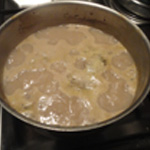 Let cook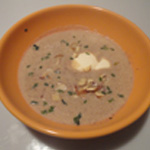 Zoom