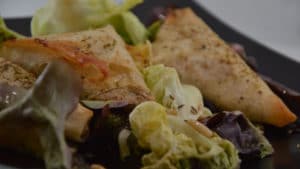 Tuna samosas
Summary : Recipe for Tuna Samosas, I've been planning to make tuna samosas for a few months now. Here it is, we had a great time. A small starter to enjoy with friends with a green salad, I cooked the tuna samosas in the oven, just a little butter to make the dough even more crisp. It's not always easy to shape samosas just a little practice and you will see it get better. In any case, a lot of pleasure to make this dish and a lot of pleasure to taste these tuna samosas
Tuna samosas recipe for 4 people:
Recipe ingredients
2 tins of natural tuna of 160 gr
250 gr of ricotta
1 teaspoon of 4 spices
2 eggs
25 gr of butter
Instructions
Preheat the oven to 180 °
Drain the tuna naturally.
Mix the tuna with the ricotta.
Add the 4 spices.
Break the eggs and incorporate them into the preparation.
Cut the bricken leaves in two.
Fold over the rounded part to obtain a large rectangle.
Place a nice tablespoon of preparation to the left of the rectangle.
Fold over to get a triangle.
Turn each time to keep the triangle by closing the open part.
Place the samosas on a sheet of food paper.
Melt the butter in the microwave for 30 seconds;
Brush the samosas with a brush, just the top part.
Place in the oven for 10 minutes, just enough time to toast them a little.
Preparation time: 20 minutes
Cooking time: 10 minutes
Number of people: 4
4 star rating: 1reviews
Tuna samosas, a beautiful preparation I served them with a green salad, we loved it. A simple recipe that goes a little off the beaten track.
What wine to drink with: Tuna samosas
My favorite wine for this recipe: Corbière blanc Cépage Maccabeu; Picpoul white; Clairette white
Temperature between 12 ° and 14 °
Prepare the stuffing Prepare the stuffing
Fold the dough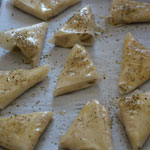 To cook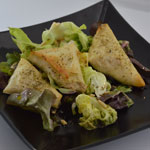 With a salad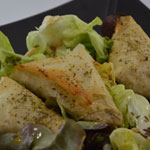 Zoom