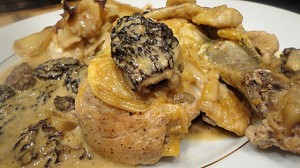 Recipe: Guinea fowl with morels
Guinea fowl recipe with morels, to end the year in style. The guinea fowl the queen of poultry, I love its flesh and its color in a recipe married with cream and morels, it is difficult to resist. Cook the guinea fowl supreme in the oven, but it is customary for the poultry to pass them first in a large vegetable broth, the meat remains very soft. You will reduce your broth by ¾ and you will use it to whip up your sauce. A fairly easy recipe to make, this guinea fowl with morels should appeal to all children and adults. 2012 souvenir recipe
Recipe ingredients
Guinea fowl recipe with morels for 16 people:
16 guinea fowl supremes
3 carrots
1 leek
1 onion
2 shallots
½ bunch of parsley
1 bottle of Savagnin white wine
30 cl of fluid cream
40 gr of butter
2 tablespoons of olive oil
1 tablespoon of coarse salt
1 can of peeled tomato
1 small hazelnut harissa
30 g of morels
Instructions
Peel and cut the vegetables into slices.
Peel and quarter the onions and shallots.
Soak the morels in water
Place the guinea fowl supreme in a large Dutch oven.
Add the vegetables, pepper and coarse salt.
Pour ¾ of white wine and cover with water.
Start under a low heat and cook until the water simmers.
Stop cooking after 5 minutes from the first simmering.
Gently remove the poultry.
Reduce the cooking broth by ¾.
Stem and finely chop the rest of the parsley.
Cut the morels in half and remove the grains of sand
Heat the casserole dish with the butter then add the parsley and the morels, let them return for a few minutes.
Place the guinea fowl supremes in the large casserole dish.
Pour 50 cl of reduced broth and the rest of the white.
Add the fluid cream.
Cook for 15 minutes and gently simmer the sauce.
Wrap the supremes out of the oven in aluminum foil and place them in an oven at 90 °.
Reduce the cooking juice to thicken it a little, taste and adjust the seasoning.
Preparation time: 15 minutes
Cooking time: 60 minutes
Number of people: 12
4 star rating: 1 review
What wine to drink with: Guinea fowl with morels
My favorite wine for this Savagnin blanc recipe Grape variety: Savagnin
Temperature between 10 ° and 12 °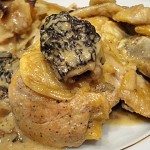 Guinea fowl with morels-Finish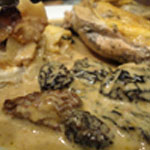 Guinea fowl with morels Cream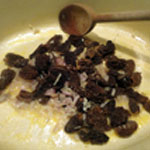 Guinea fowl-with-morels-04 Sear the morels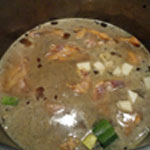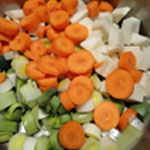 Guinea fowl-with-morels-02 Slice the carrots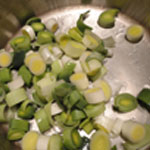 Guinea fowl-with-morels-01-Leek, thinly sliced