Veal Paupiettes with Ricotta Recipe
Summary : Veal paupiettes with ricotta, a great occasion to celebrate the arrival of spring. It is the ricotta that is at the forefront in this recipe, it comes to flavor the meat, its soft side will not leave anyone indifferent. I accompanied my veal ricotta paupiettes with peas and bacon. A nice recipe that is quite easy to make, just watch the cooking so that the veal is not overcooked, but on the contrary very tender. Use a circle or a cup to shape your paupiettes. For this recipe, I chose to cover them in order to give even more taste and flavor to my veal paupiettes with ricotta
Ricotta paupiettes recipe for 3 people:
Ingredients
6 thin veal cutlets
400 gr of ricotta
1 bunch of mint leaves
3 fresh onions
1 teaspoon of Sechuan pepper, crushed at the last moment
2 cloves garlic
20 cl of white wine
4 sage leaves
6 slices of smoked bacon
2 tablespoons of olive oil
Instructions
Place the cutlets between two sheets of baking paper.
Flatten with the flat of a large knife.
Mash the ricotta with a fork.
Season generously with salt and pepper.
Finely chop the mint, then add it to the ricotta.
Slice the onions then add to the preparation.
Peel the garlic, then finely mince and add to the preparation.
Place a tablespoon of ricotta in the center of the cutlet.
Remove the cookie cutter.
Cover the paupiette with the smoked breast.
Tie the paupiette.
Do the same with the other paupiettes
Heat a cast iron casserole dish with olive oil.
Sear the paupiettes, 3 minutes per side, until golden brown.
Pour in the wine, cover and cook for 10 minutes.
Preparation time: 45 minutes
Cooking time: 13 minutes
Number of people: 3
4 star rating: 1reviews
What wine to drink with: Veal Paupiettes with Ricotta
My favorite wine for this recipe: Jura blanc Cépage Savagnin, Chardonnay, Pinot blanc
Temperature between 08 ° and 11 °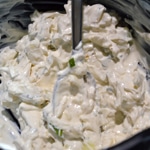 Prepare the stuffing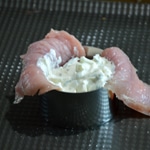 Mold in a stainless steel circle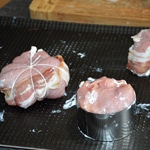 Tie the paupiette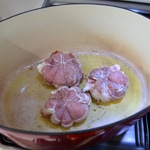 Sear the paupiettes under a low heat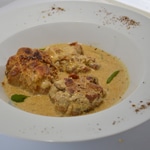 Zoom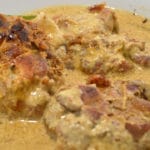 Origin of the recipe: Saveur Magazine