Turbotin Salad Recipe
Yesterday we tasted turbotines that Yves had bought in Normandy during his trips with his family. We the Francs Comtois, we await his returns with each time his share of surprises. As we had one more, we baked it like the others and reserved for this Turbotin Salad. It was while going to a "Grand frais" store in Besançon, not to mention it, that I discovered this salad. From the first glance, I was won over, I already love this Romaine Arlequin lettuce, almost like a bouquet of flowers. Immediately, I thought of a Turbotin Salad, it must be exceptional like this beautiful, multicolored salad. Here in Franche Comté, we are not too used to salads with sea fish, however we all appreciated this Turbotin Salad, colorful and flavorful. No dressing, just extra virgin olive oil and a hint of lime. I have finished seasoning this beautiful Turbotin Salad, with Gomashio or Gomasio, the choice is yours. The first version is closer to the tradition, since this condiment comes to us from Japan. Provided with a little salt, it can replace it in the kitchen.
Turbotin salad recipe for 4 people
Ingredients
1 Turbotin
1 leg of Romaine Arlequin Lettuce
4 sun-dried tomato petals
1 carrot
1 small piece of fresh ginger
4 teaspoons of Gomashio (Roasted sesame seeds then mixed)
1 leaf of green salad
4 pink radishes
Peppercorns
4 tablespoons extra virgin olive oil
4 turns of a pepper mill
4 teaspoons of lime juice
Instructions
Bake the turbot in the oven for 15 minutes, just drizzled with a little oil.
Let the fish cool.
Remove the skin and the bones, then remove the leaves.
Rinse the salads and radishes, then wring them out.
Cut the tomatoes in oil into small cubes.
Peel the carrot, then slice it as thinly as possible.
Arrange the salad leaves on each plate.
Slice the radishes into thin strips, one per plate.
Place the pieces of Turbotin.
Spread the tomato over the salad.
Pour the oil on each plate, then the lemon.
Pepper 1 turn of the mill per plate.
Sprinkle the Gomashio over the salad.
Preparation time: 20 minutes
Cooking time: 0 minutes
Number of people: 4
4 star rating: 1 review
What wine to drink with: Turbotin Salad Recipe
My favorite wine for this dry Jurançon recipe Grape varieties: Gros et petit Manseng; Corbu white
Temperature between 08 ° and 10 °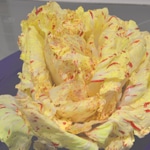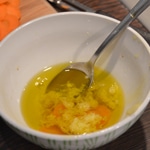 Oil and ginger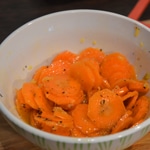 Add the carrots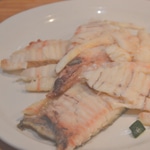 Strip the fish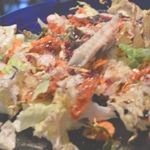 Zoom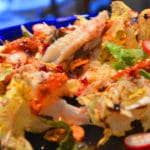 Romaine Harlequin Lettuce