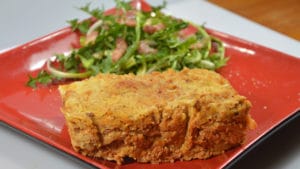 Turkey Lasagna Recipe
Here is a lasagna recipe that changes a bit from the Alladind lasagna, I had planned to name them that way, but Google's search engines struggled a bit… ..I went back to a more serious turkey lasagna title. We really like homemade pasta; every week they are in the spotlight, I decided to change my method of lasagna, but it will be for another article. Turkey lasagna to receive my brother Kiki who is a big fan of beef, I wanted to change him a bit, I'm not sure he liked my lasagna like crazy, but he was very polite, even kind. Okay… .that's a bit of a change from classic lasagna. I really like these generous pasta dishes, which cook gently in the oven, no need to supervise, they cook on their own. Turkey lasagna without pork, a recipe for all pasta lovers.
Turkey lasagna recipe for 8 people:
Ingredients
600 g turkey
3 large onions
1 teaspoon of sweet paprika
½ teaspoon ground cumin
1 tablespoon of olive oil
1 teaspoon of garlic
70 g of double tomato paste
1 can of whole peeled tomatoes
25 cl of liquid cream
400 g flour
4 eggs
4 g of salt
20 cl of cream
300 g of grated Comté
1 tablespoon of breadcrumbs
Instructions
Make the dough fresh like here.
Preheat the oven to 170 °.
Dice the turkey.
Sprinkle the meat with the paprika and ground cumin, stir well to incorporate the spices.
Brown the meat for a few minutes in a hot pan, with the oil.
Chop the turkey once it has cooled down.
Salt 10g per kg of meat and pepper 1g per kg of meat.
Peel then chop the carrots and cut the peeled tomatoes into cubes.
Peel then chop the onions and the sundried tomatoes.
Sear the onions and carrots in the pan.
Mix the meat with the carrots and tomatoes.
Add the spoonful of garlic, the cream and the tomato paste.
Pour a ladle of sauce into the dish.
Place a row of fresh dough.
Then a row of sauce, sprinkle a little grated cheese on each layer of sauce.
Cross the pasta and renew the layers until all the preparation is used up, remember to cross the pasta.
Finish with the grated cheese.
Sprinkle with breadcrumbs.
Place in the hot oven for 60 minutes.
Preparation time: 45 minutes
Cooking time: 60 minutes
Number of people: 8
4 star rating: 1 review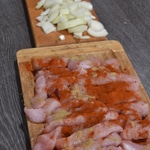 Slice the turkey then season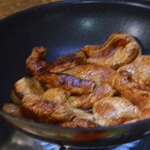 Sear the meat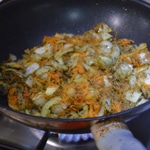 Sear the vegetables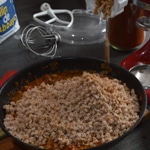 Chop the meat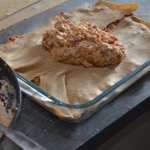 A layer of dough a layer of meat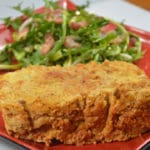 What wine to drink with: Turkey lasagna
My favorite wine for this recipe: Saint Chinian Village Cépage Syrah, Garrignan, Cinsault
Temperature between 15 ° and 16 °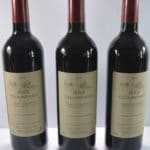 Bottles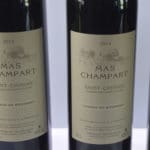 Zoom
Partnership with Mas Champart in Saint Chinian in Hérault
A thought to all those connected from France or abroad in love with French cuisine and its wines, here is a great opportunity for you to buy a quality wine, without any risk, to accompany my recipe for Lasagna à la Turkey. I selected this Saint Chinian Côte d'Arbo wine from the Mas Champart estate after tasting it, I loved it.
Mas Champart Cause du Bousquet St Chinian 2014
Full and fleshy on the palate with velvety tannins, its beautiful garnet color, sustained and brilliant, will not leave anyone indifferent. I really liked these aromas of candied and even ripe fruit and some toasted notes and sweet spices. It goes wonderfully with pasta, fresh of course.
Mas Champart
Bramefran
Route D 20
34 360 Saint Chinian
Phone: 04 67 38 05 59
Email: mas-champart [at] wanadoo.fr </p