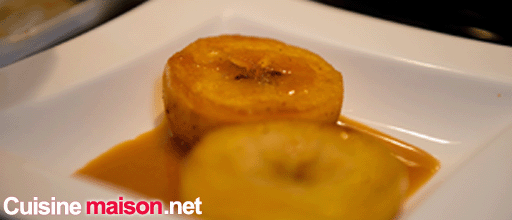 Vanilla roasted apple recipe
Summary: Roasted apple, this is how to bake apples. Caramelized and flambé roasted apples for an easy dessert. Roasted apples in the oven for an easy dessert.
Vanilla roasted apple recipes for 4 people
Ingredients:
4 royal apples gala
100 g butter
20 g brown sugar
1 teaspoon of powdered vanilla extract.
25 cl of fresh fluid cream
10 cl of mirabelles
Instructions
:
Peel the apples, then cut them in half.
Heat the butter in a pan with a thick bottom.
Sear the apple in the pan over high heat, sprinkling with the brown sugar.
Turn the apple over and repeat the operation, the apple should be well colored.
Place the apples in a baking dish, finish distributing the brown sugar over the apples.
Place a knob of butter on each apple.
Place the apples in a hot oven at 170 ° for 10 minutes.
Heat the mirabelle plum in a saucepan.
Pour the hot mirabelle plum over the vanilla roasted apples.
Strike a match, be careful, it will heat up, the apples will flare up.
Sprinkle regularly with the juice that flames the apples.
Assemble a whipped cream without sugar using a pocket placed a little whipped cream on your apples.
What wine to drink with: Roasted apple with vanilla
My favorite wine for this Crémant de Bourgogne Grape variety: Chardonay and Pinot noir
Temperature between 08 ° and 10 °
Thanks to Thibaut and Jean Cyprien for the photos
Thank you to Rosabel de Vesoul store for its dishes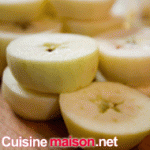 Peel the apples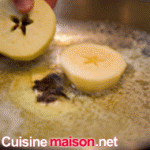 Color the apples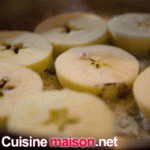 Put the apples away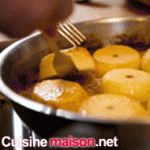 Turn the apples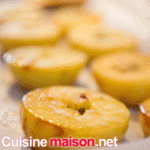 Colorful apples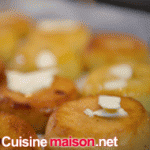 A knob of butter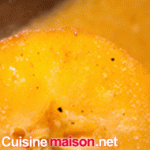 Zoom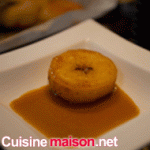 Apples on a plate