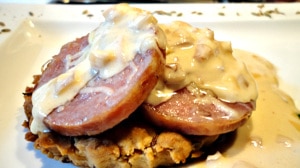 Recipe: Morteau sausage canapes
Morteau sausage canape recipe, be careful when cooking the Morteau sausage, the water must simmer at low broth. Morteau sausage, a specialization from Haut Doubs, a recipe that is still well protected. A sauce with a wine of character Savagnin, this grape variety that may come from Hungary is typical of the Franche-Comté region. Combined with Morteau sausage in a divine marriage to awaken your taste buds, with this beautiful starter ideal to start a meal. I thought of the people who cannot invest a large sum for the holiday season.
Recipe ingredients
Morteau sausage canape recipes for 4 people
1 Morteau sausage
300 g of shortcrust pastry
40 g of cumin Comté
4 shallots
30g butter
30 cl of Savagnin wine
Instructions
Cook the Morteau sausage without pricking it for 20 minutes with simmering water.
Roll out the shortcrust pastry, then use a cookie cutter to form large circles.
Prick the shortcrust pastry impressions to prevent them from rising too much.
Peel the shallots and mince them.
Heat the butter in a saucepan with a large bottom.
Sear the shallots in the butter.
Cover with white wine and let reduce.
Add the sour cream and reduce again by three quarters.
Just before serving add a little wine, to get the typical taste of the wine.
Bake the circles of shortcrust pastry in a hot oven at 180 ° for 15 minutes.
Peel the Morteau sausage then slice it into slices for 5 minutes.
Cut the Comté into very thin strips.
Spread a little sauce on each cane.
Place 5 slices of sausage on the canapes.
Place one or two strips of Comté cheese on your preparation.
Place in a hot oven at 150 ° for a few minutes to warm up and melt the Comté.
Preparation time: 15 minutes
Cooking time: 18 minutes
Number of people: 6
5 star rating: 1 review
What wine to drink with Morteau sausage canapés
My favorite wine for this Savagnin recipe Grape variety: Savagnin
Temperature between 12 ° and 14 °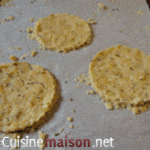 Cook for a few minutes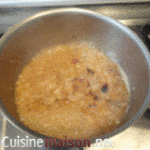 Sear the shallots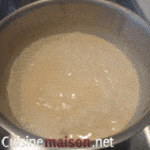 Add wine and cream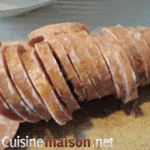 Slice the Morteau sausage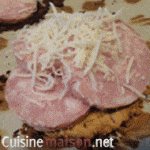 Grate some Comté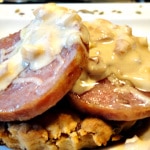 Thanks to Catherine from Château de Roche for this recipe.
Thank you to Rosabel de Vesoul store for its dishes