Recipe: Veal Baeckeofe
Baeckeoffe of veal in the baker's oven, here is an old tradition from the time when the baker baked baeckeofes for the whole village. A traditional dish linked to a region, Alsace, very close to my region, Franche Comté. Beef, veal, loin, meats that will marinate overnight; with baking for several hours this baeckeofe will not leave anyone indifferent. I replaced the lamb with veal at my son's request …
Recipe ingredients
Baeckeoffe veal recipe for 10 people:
1,000 kg of beef shank or boneless breast
1,000 kg of pork shoulder or loin
1,000 kg of veal
1 pig's trotters
2 tablespoons of goose fat
3 kg of potatoes
6 large onions
6 nice carrots
1 bottle of Pinot gris
Goose fat for the dish
3 cloves
12 juniper berries
4 cloves of garlic
1 stalk of celery
3 sprigs of thyme
6 bay leaves
1 tablespoon of peppercorns.
1 bard of bacon
Salt
Pepper
To fight (close the lid tightly)
500 g flour
25 cl of water
Instructions
Cut the meat into equal cubes.
Peel two onions then cut them in half and prick them with cloves.
Place the meat in a large bowl with the carrots.
Add the thyme and bay leaf.
Pour in the tablespoon of peppercorns.
Cut the stalk of celery.
Add the crushed garlic cloves and Juniper berries.
Salt, pepper
Pour in the white wine, it should completely cover the meat.
Close the dish with cling film and let stand overnight in a cool place.
The next day
Peel the potatoes and cut them into slices.
Peel and cut the carrots into slices.
Peel and cut the remaining onions into rings.
Brush the dish with a little goose fat.
Combine all the vegetables in a dish.
Start your baeckeofe with a row of vegetables.
Add a row of marinated meats.
Repeat until all the ingredients are used up.
Cover the preparation with the wine from the marinade.
Finally, put on the pig's trotters, cut in three.
Cover with barding to protect the potatoes from the top from long cooking.
Mix the flour and water, then fight the Baeckeoffe mold
Bake in an oven at 160 ° for at least 5 to 6 hours.
Preparation time: 50 minutes
Cooking time: 5 to 6 hour (s)
Number of people: 10
4 star rating: 1 review
What wine to drink with: Veal Baeckeoffe
My favorite wine for this recipe: Pinot gris
Temperature between 08 ° and 12 °
Thanks to Françoise for lending me her magnificent terracotta dish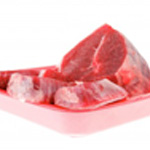 Calf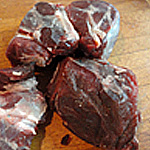 Beef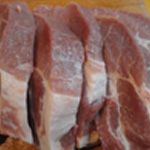 Pork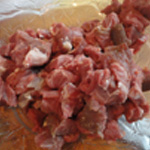 Cut the meat into cubes
Mix the cut meats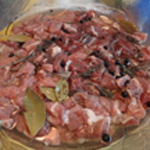 Cover with wine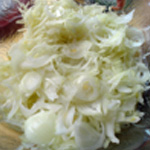 Cut the onions into strips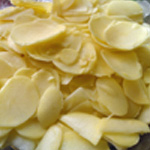 Cut the potatoes into strips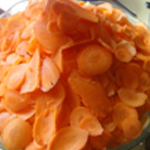 Cut the carrots into strips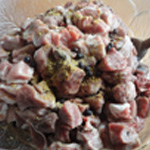 Salt and pepper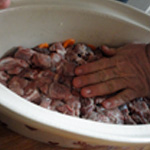 Pack the meat a little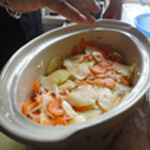 Add vegetables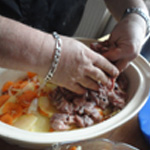 Cover the vegetables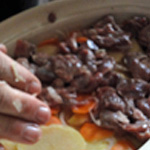 More meat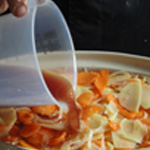 Pour the marinade wine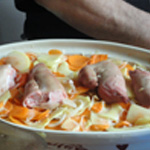 Putting pig's feet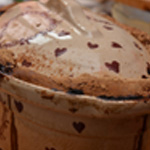 Luter with flour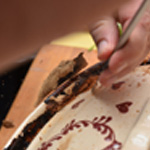 After cooking, break the flour seal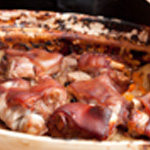 Zoom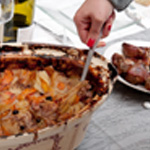 Let's eat<img src="/wp-content/uploads/2021/09/7456511698249142464.jpg" class="aligncenter"