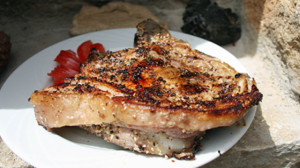 Recipe: Veal chop with sesame
Sesame veal chop recipe, in these sunny days, when we put out all the barbecues and umbrellas. I like these meals under the parasol where you can pretend a little with a very fresh fruity rosé and a few good-humored friends. Today for the barbecue it is the veal that is in the spotlight. I had read this idea in the flavor magazine, it immediately convinced me with its simplicity and originality. I like it when the sesame roasts and takes on a smoky taste. The sesame veal chop was deliciously flavored while cooking on the barbecue, I had chosen my butcher to have a nice piece of veal, tender and generous. Of course if you don't have a barbecue to make these sesame veal chops, you can opt for baking in a 180 ° oven.
Recipe ingredients
Sesame veal chop recipe for 2 people:
2 beautiful veal chops
1 tablespoon of sesame oil
1 teaspoon of white sesame.
½ teaspoon of peppercorns.
Salt
Instructions
Take the ribs out an hour before cooking.
Crush the peppercorns in a mortar.
Combine the oil, sesame seeds and pepper.
Generously brush the veal chops on both sides.
Cook on a barbecue not too hot.
Turn the ribs over.
Add salt just before serving.
Preparation time: 10 minutes
Cooking time: 10 minutes
Number of people: 2
4 star rating: 1 review
What wine to drink with: Veal chop with sesame
My favorite wine for this recipe: Côte de Blaye grape Merlot, Cabernet Franc and sauvignon
Temperature between 15 ° and 16 °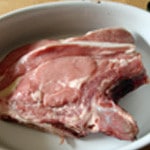 Let the meat rest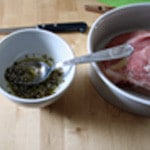 Prepare the marinade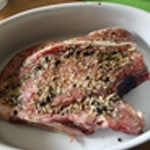 Spread generously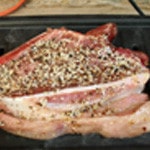 Raw zoom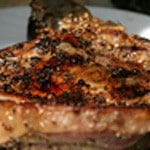 Zoom cooked