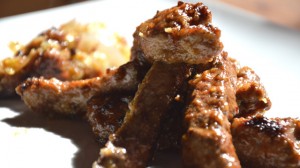 Recipe: Calf liver recipe
Calf liver recipe. I found this Venetian-style veal liver recipe on Marie Claire's website, you will find its link below. Reading this recipe, I fell in love with it, it was hard to wait and not taste. I almost just made his recipe, I just limited the balsamic vinegar because at home there are some who don't like it, shh…. In any case, a new way to consume this delicious calf's liver, even as a small starter for good friends. Calf's liver at home is everyone's business.
Recipe ingredients
Calf liver recipe for 3 people:
400 g of calf's liver
2 tablespoons of flour
3 onions
3 tablespoons of olive oil
1 vegetable bouillon cube.
2 tablespoons of soy sauce
1 tablespoon of balsamic vinegar
Instructions
Rinse the liver under the tap, then wipe it with food paper.
Slice the liver into 1 cm strips crosswise.
Salt and pepper the cut liver.
Add a tablespoon of flour and ape the liver (sprinkle with flour).
Peel the onions, then cut them in half, then in 6 times to make small strips.
Heat a pan with 1 tablespoon of olive oil.
Throw the onions into the hot oil, lower the heat, stir, the onions should be translucent, but not roasted.
Dissolve the cube of vegetables in 15 cl of hot water.
Pour the water over the onions and simmer gently for about ten minutes, there should not be any water left.
Reserve the onions.
Add a tablespoon to the pan, raise the temperature.
Sear the floured liver on all sides in the hot pan for 2 to 3 minutes.
Lower the pan and let the liver finish cooking, be careful, it must remain pink.
Add soybeans at the end of cooking.
Deglaze with the spoonful of balsamic vinegar.
Server immediately.
Preparation time: 15 minutes
Cooking time: 2 to 3 minutes
Number of people: 4
4 star rating: 1 review
What wine to drink with: Calf's liver recipe
My favorite wine for this recipe: Aloxe Corton rouge Pinot noir grape
Temperature between 15 ° and 16 °
Here is where I found the recipe: Honey and salt
Thank you Marie Claire for allowing me to resume her recipe.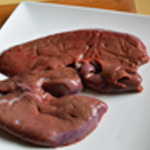 Slice the liver
Cut it into strips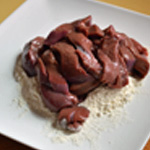 Pass it in the flour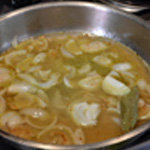 Sear the onions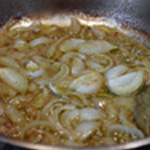 Let confine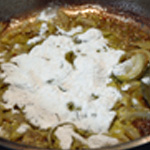 Flour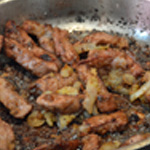 Flour