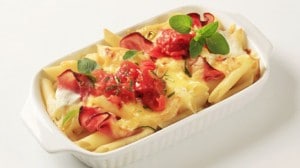 Recipe: Penne rigate gratin
Recipe for penne rigate gratin flavored with Mont d'Or, delicious cheese that will flow delicately between the penne. Pasta gratin surely the favorite of the gratin at home either with fresh pasta or even with pasta from the food industry. I like the penne rigate they are perfect for a gratin, but be careful when cooking the pasta and especially do not forget to cool them under cold water as soon as the cooking is finished. Always use the minimum time indicated on the box, as they will still cook in the oven. Penne rigate gratin at home, they will be quickly devoured.
Recipe ingredients
Penne rigate gratin recipe for 2 people
220 g penne rigate
200 g smoked bacon, sliced
400 g of mont d'or
40 g parmesan
40g butter
10 basil leaves
1 teaspoon of Séchouan red pepper
Instructions
Cook the pasta in a large broth of salted water, the minimum time indicated on the package about 10 minutes.
Filter the pasta through a colander.
Cool the pasta under the tap to stop cooking.
Butter a baking dish.
Heat a pan and grill just to color the smoked breast.
Place the pasta in the dish.
Add the smoked bacon.
Place a generous piece of Mont d'Or in the center of the dish.
Sprinkle with the Séchouan pepper.
Place in a hot oven under the grill to brown the cheese for 10 minutes at 210 °
Add the basil just before serving.
Preparation time: 15 minutes
Cooking time: 10 minutes
Number of people: 4
4 star rating: 1 review
What wine to drink with: Gratin de Penne rigate
My favorite wine for this recipe: Chinon rouge Grape Cabernet Franc
Temperature between 15 ° and 17 °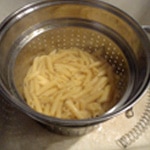 Cook the pasta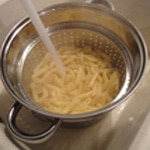 Rinse under the tap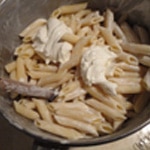 Add the mount of gold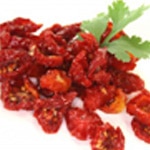 Add the sundried tomatoes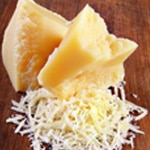 Grate a little parmesan