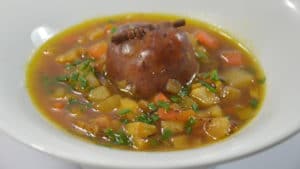 Vegetable and Sausage Soup Recipe
Thibaut gave me a nice smoked sausage from Haut Doubs, they are always exceptional; just to the touch, your hand is marked by a smell of smoke. I really like the soup with vegetables cut into small cubes, but I am the only one at home, it falls tonight: no one at home. I cooked my beautiful sausage with my vegetables, these sausages are rarely fatty and they divinely flavor this beautiful soup. Vegetable and sausage soup, ideal for an evening meal with a small green salad. A nice way in winter to eat vegetables, here cut into small cubes, it's a little more work, but I love it. Be careful not to overcook the Upper Doubs sausage, the soup should barely simmer without boiling at full broth, like a gentle Morteau sausage.
Vegetable and Sausage Soup Recipe for 4 people:
Ingredients
1 potato
2 carrots
2 onions
1 turnip
1 leek
1 smoked sausage from Haut Doubs
1 tablespoon of olive oil
¼ of celery
1 teaspoon of cumin
1 teaspoon of coarse salt
1 teaspoon chopped chives
1 liter of water
Instructions
Peel the carrots, turnip and celery then cut them into small cubes.
Peel the onions and thinly slice.
Heat the olive oil in a casserole dish.
Add the onions, let them color, stirring regularly.
Add the vegetables cut into cubes.
Add the cumin and toast a little with the spice.
Pour in the water then salt.
Cook for 15 minutes under a low heat.
Add the upper Doubs smoked sausage to the simmering soup.
Cook in simmering water for 30 minutes.
Add the chives just before serving.
Enjoy the soup hot.
Preparation time: 20 minutes
Cooking time: 45 minutes
Number of people: 4
4 star rating: 1 review
What wine to drink with: Vegetable and sausage soup
My favorite wine for this recipe: Poulsard Rousseau grape, Poulsard and Pinot noir
Temperature between 11 ° and 13 °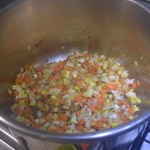 Cubed vegetables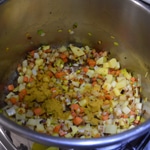 Sear the vegetables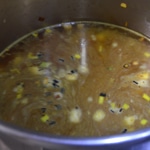 Add the broth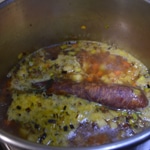 Add the sausage then lower the heat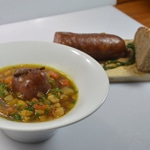 Zoom