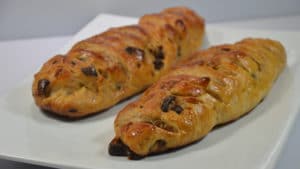 Chocolate Viennese Bread Recipe
Always a great time at home breakfast, we (so as not to gain pounds every day) highlight when a person sleeps at home. This morning, the house is full with three young girls and of course their mother, happiness in the house, she breathes the joy of living, I love it. So for breakfast after the pancakes, Sofia asked me if I had sandwich bread of course I made it for her (you will have the recipe a little later). This morning it's Pain Viennois au chocolat, beware of gourmets and gourmets, it's a killing for a royal breakfast: the bread is brioche with a contribution of chocolate (in addition I was very generous, but we do not change …) . I tested in freezing, but I think I made a mistake because I thawed my chocolate Viennese bread before baking it, next time I will try to bake it directly out of the freezer. In any case, we loved this Viennese chocolate bread.
Chocolate Viennese Bread recipe for: 5 rolls of 150g ea.
Ingredients :
500 g of T65 flour
200 g of chocolate chips (I use chocolate bars for bread rolls)
35g sugar
25 g powdered milk
15 g baker's yeast
10 g of fine salt
1 egg yolk for the gilding
75 g of liquid sourdough
75 softened butter
Instructions
Pour in the flour, water, baking powder, salt, sugar, powdered milk and baking powder.
Mix 5 minutes at low speed, then 6 minutes at high speed.
Add the chocolate.
Incorporate the softened butter, beat a further 4 minutes.
Form a ball and cover with a slightly damp cloth.
Let it grow for an hour, the dough will gain volume.
Flour the work surface.
Divide the dough into 5 pieces of equal weight.
Roll them up to give them a nice round shape.
Let sit for 15 minutes.
Gently flatten the dough pieces with the flat of your hand.
Take the dough pieces lengthwise.
Fold the right side up a third and press it with your fingers to give it a shape.
Fold the left side back a third and press it with your fingers to give it a shape.
Fold the dough in half lengthwise, weld with the base of your hand.
Roll it under your hand so that it takes the desired shape about 15 cm, refine the ends to a point.
Place the dough pieces (solder underneath) under a damp cloth.
Brown with the beaten egg
Store in the refrigerator for 10 minutes.
Brown again with the beaten egg
Roll into a sausage and let it grow for 1 hour 30 minutes.
Preheat the oven to 160 °.
Pour 5 cl of water in the oven and put the buns in the oven; cook for 15 minutes.
Preparation time: 30 minutes
Cooking time: 15 minutes
Number of people: 5 rolls of 150 g
4 star rating: 1 review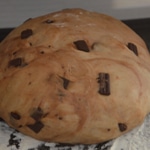 Let it grow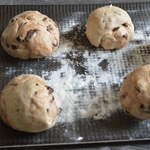 Divide into four then let it grow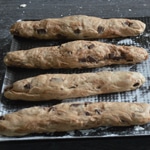 Extend in the shape of a wand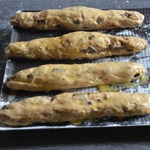 Brown with egg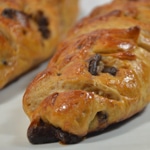 zoom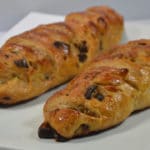 What wine to drink with: Pain Viennois au chocolat
No wine, for this recipe </p