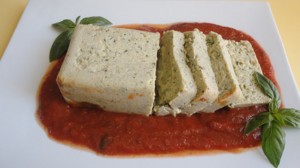 Recipe: Zucchini flan
Recipe zucchini flan or zucchini terrine, a light zucchini mousse, it should appeal to all those who pay attention to their lines. Zucchini dish a recipe to change with all the zucchini in the gardens, be careful when removing from the mold this zucchini flan is very fragile when removing from the mold. Courgette recipe for a starter, this terrine is cold, or even frozen, accompanied by a tomato coulis flavored with sherry vinegar. In a terrine, the courgettes should empty themselves of their water by cooking them in the oven instead.
Recipe ingredients
1 zucchini to have 600 gr of flesh
2 cloves garlic
1 large onion
½ bunch of chives
3 eggs
2 tablespoons of olive oil
2 teaspoons of basil
1 agate potato
2 cloves garlic
1 can of peeled tomatoes
2 sugars
1 tablespoon of sherry vinegar
Instructions
Peel the zucchini and cut it into small cubes.
Peel and cut the onion and garlic cloves.
Oil a baking dish then add the onion and garlic.
Place the zucchini in the dish.
Add 2 tablespoons of olive oil, salt and pepper.
Sprinkle the basil over the zucchini.
Add the potato cut into 4 pieces
Place the zucchini in a hot oven at 200 ° for 30 minutes.
Mix the flesh of the zucchini and the potato out of the oven.
Add the eggs and whisk to incorporate the 3 eggs.
Taste and adjust the seasoning.
Prepare your tomato coulis
Leave to rest overnight in the refrigerator.
Preparation time: 20 minutes
Cooking time: 30 minutes
Number of people: 4
4 star rating: 1 review
What wine to drink with Zucchini Flan:
My favorite wine for this Viognier recipe Grape variety: Viognier
Temperature between 10 ° and 12 °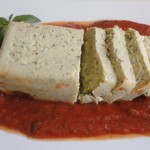 To slice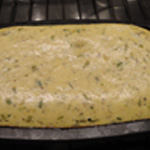 Cooked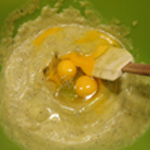 Add the eggs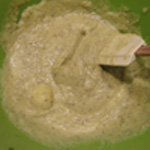 Add the pdt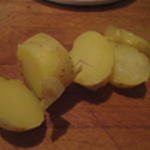 Slice the potatoes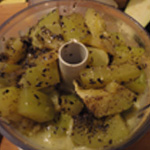 Mix the courgettes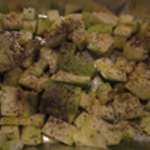 Cook in the oven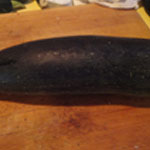 Courgette