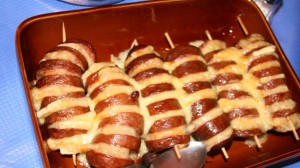 Recipe: Andouillette val d'Ajol
Recipe Andouillette val d'Ajol. Recipe with Maroilles cheese from the north, which will flavor these andouilles. Recipe from the Vosges with their specialty of andouille, not always easy to find good quality. I used Maroilles for a change. A baked andouille recipe, au gratin with cheese. Baking the andouille for 10 minutes in the oven.
Recipe ingredients
Val d'Ajol andouillette recipe for 4 people
2 small andouilles from Val d'Ajol
25 cl of white wine
200 g of aged Comté
250 g of Maroilles
Instructions
Cook the andouilles in a saucepan filled with water and 25 cl of white wine for 20 minutes.
Cut the andouilles in half according to their size, or small.
Notch the andouilles every cm without completely cutting the andouille.
Cut the county pieces of identical shapes.
Insert a piece of Comté into the crack.
Pass in a hot oven 200 ° for 10 minutes.
Collect 10 cl of cooking water and boil it in a saucepan.
Cut the maroilles into small squares, melt it in the stock pot.
Stir regularly and simmer and reduce your Maroilles sauce.
Preparation time: 20 minutes
Cooking time: 10 minutes
Number of people: 4
4 star rating: 1 review
What wine to drink with: Andouillette du val d'Ajol
My favorite wine for this Bourgueil Grape variety recipe: Cabernet franc and cabernet sauvignon
Temperature between 15 ° and 16 °
Thanks to Thierry for this recipe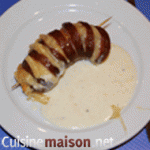 on plate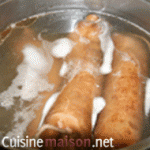 cook in broth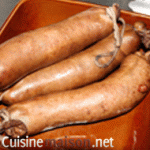 cooked andouillette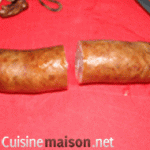 slice the andouillettes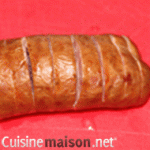 to slice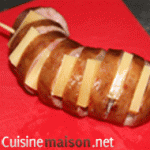 insert county
maroilles sauce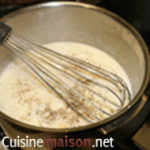 reduce the sauce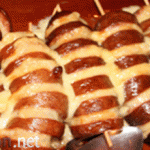 cheese fondue