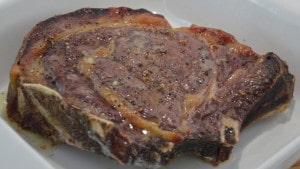 Recipe: Baked prime rib
Summary: Recipe for baked prime rib, here is a winter recipe for those nostalgic for barbecues. What a pleasure to eat a prime rib in the middle of winter, rediscover the flavors of grilled meats. Beef is a party at home and especially prime rib. Yesterday I went to a friend's house who made us a bison rib. A huge rib that she cooked just over coarse salt in a pan, but eventually baking in the oven, the cooking is more even. Its cooking was perfect, I loved Thank you Delphine for this tasting and your smile. Today I like to serve myself at my butcher's friend, but we have a competitor who is eating away at the market share in Vesoul. It is a large area that has set up a beef rib cellar, there are all the big names of beef breeds in France, which are more or less mature according to your tastes and your means. But throughout the winter, the roast prime rib is in the spotlight. Barbecued prime rib or oven baked rib of beef, the difference is just the summer or winter season, but the beef is good all year round.
Recipe ingredients:
Baked prime rib recipe for 1 or 2 people:
1 nice rib of beef, about 900 gr
1 teaspoon ground pepper
2 tablespoons of olive oil.
1 teaspoon of coarse salt
A little Provence herbs
Salt of Guerande
Instruction:
Choose a prime rib of a dark red, or even a little dull.
Salt generously with coarse salt.
Crush the pepper in a mortar, then sprinkle on both sides of the prime rib.
Sprinkle with Provence grass.
Generously oil all sides of the prime rib.
Film in a dish and let stand for 2 hours or overnight which is even better.
Remove the prime rib 1 hour before starting to cook.
Heat the oven without rotating heat to 200 °.
Place the prime rib in the oven for about 30 minutes.
Wrap the prime rib in aluminum foil.
Let the meat rest for 10 minutes.
Slice the rib into small strips, so that everyone can choose their cooking.
The most greedy will finish the bone, despite the desperate gaze of the doggie.
Preparation time: 5 minute (s)
Cooking time: 30 minutes
Number of people: 2
4 star rating: 2 reviews
What wine to drink with: Oven rib of beef
My favorite wine for this recipe: Château Neuf du Pape red grape Syrah, Mourvèdre, Grenache noir
Temperature between 16 ° and 18 °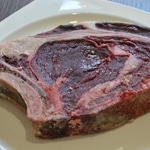 Go out an hour before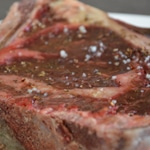 Salt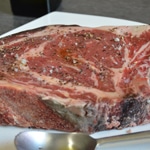 Pepper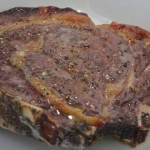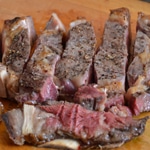 Slice the rib of beef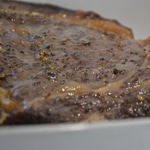 Cooked side