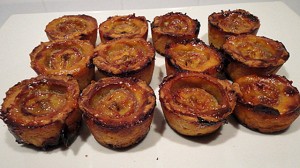 Banana Tart Recipe
Banana tart to accompany your coffee, they will be devoured and not just eyes. Banana tart, I love this fruit when it is ripe and it smells like a fruit tart here. Banana cake to finish a meal with friends
Recipe ingredients
Banana tartlet recipe for 4 people:
3 bananas
2 teaspoons of brown sugar
1 egg
1 tablespoon of powdered sugar
10 cl of cream
50 g of flaked almonds
125 g of type 55 flour
70 g butter
70 g sugar
½ teaspoon of salt
1 egg
Instructions
Make the shortbread as here by adding the slivered almonds.
Let stand for a few minutes in the refrigerator.
Peel the bananas then cut them into sections of about 1 cm.
Form the pie crusts in your silicone mold.
Add a light layer of flaked almonds to the bottom.
Place a banana slice upright in each mold.
Mix the cream with the egg and powdered sugar.
Pour delicately into the molds without overflowing.
Sprinkle with the brown sugar.
Place in the oven for 30 minutes at 180 °.
Unmould and cook at 200 ° for 10 minutes to caramelize the tarts.
Preparation time: 20 minutes
Cooking time: 15 minutes
Number of people: 4
4 star rating: 1 review
What wine to drink with: Banana tart
My favorite wine for this recipe: Arbois rosé Cépage Poulsard
Temperature between 08 ° and 10 °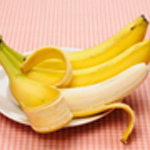 Peel the banana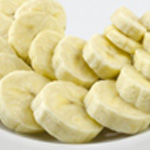 Slice into rings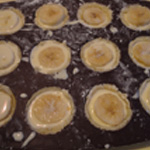 Fill the molds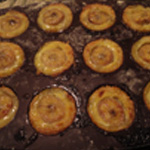 Baked Tartlet
Zoom