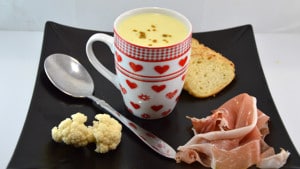 Recipe: Cauliflower soup
Cauliflower velouté recipe nothing like a small velouté to start a meal in winter or in autumn. I like these small appetizers, I am lucky to have small lion's head soup tureens that go very well for an appetizer. A marriage of convenience with this cooking recipe. A velvety soup with cauliflower and Bayonne ham, the ham is delicately scented with this soup of cauliflower. Served hot, if your meal is not too hearty, you can add some croutons to butter and toast in the oven. With cauliflower you can find it all year round now, frozen or fresh for you to see, me personally for this kind of recipe I do not hesitate to use a frozen product, which frees me time for something else. At home we like cauliflower a lot and it makes a difference to the gratins with this cauliflower velouté.
Recipe ingredients
Cauliflower velouté recipe For 4 people:
1 large cauliflower or 1 gr frozen
100 g fresh goat cheese
3 tablespoons of sour cream
2 level teaspoons of turmeric
4 thin slices of Bayonne ham
2 bay leaves
Instructions
Detail your cauliflower and wash it, cook it in 1.5l of salted water with the two bay leaves, in the pressure cooker, allow about 16 to 20 minutes.
Cut the raw ham into strips, remove the fat part and put it in an adhesive pan, once the pan is greased, put your ham and leave it a little toasted.
Keep warm.
Take half of the water in the casserole dish and mix the rest by adding the turmeric.
Add water if necessary, salt and pepper.
Present your soup with the ham slices on top.
Preparation time: 10 minutes
Cooking time: 30 minute (s)
Number of people: 4
4 star rating: 1 review
What wine to drink with: Cauliflower velouté
My favorite wine for this recipe: Alsace Riesling Grape Riesling
Temperature between 8 ° and 9 °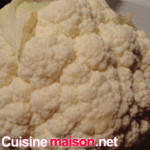 Cauliflower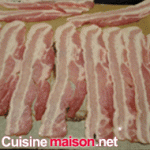 The smoked breast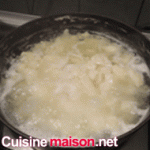 Cook the cauliflower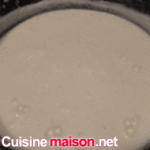 To grind the velouté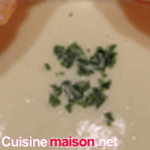 Zoom