Recipe: BBQ squid
BBQ squid recipe, we love them grilled on a barbecue griddle. The hardest thing about squid is to prepare them, but often in fishmongers he offers it to you, in any case at Leclercq with us, they are super nice in Pusey. The squid, a souvenir from our many trips to Greece, we eat them directly on the beach, grilled over a wood fire, they are really delicious and tender. Easy recipe to eat inexpensive fish on the barbecue, grilled squid on a plancha is quick and delicious.
Recipe ingredients
Barbecue Calamari recipe for 6 people:
1,500 kg of whole squid rather small.
1 shallot
½ bunch of parsley
1 tablespoon of olive oil
Instructions
Clean the squid or have it done by your fishmonger.
Rinse the parsley under running water, then wipe it dry with food paper.
Peel the shallot.
Finely chop the parsley with the shallot.
Mix the calamari with the parsley.
Add olive oil.
Salt and pepper.
Grill directly on the plancha or on a baking sheet.
Regularly remove the water that the squid rejects.
Grill the calamari for a few minutes.
Serve on a very hot plate.
Preparation time: 30 minutes
Cooking time: 5 to 7 minutes
Number of people: 6
4 star rating: 1 review
What wine to drink with: BBQ squid
My favorite wine for this recipe: Côte du Rhône blanc Cépage Viognier
Temperature between 08 ° and 10 °
Chop the parsley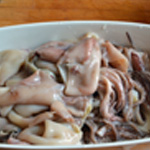 Clean the squid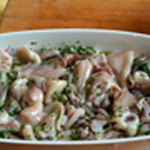 Marinate in parsley
Grill on the barbecue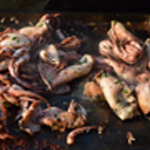 Zoom