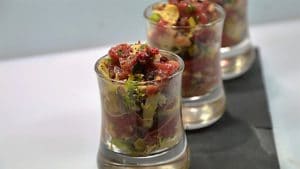 Beef in verrine recipe
Summary: I love beef and especially when the cooking is rather short, so a tartare in a verrine, no question. Beef in a verrine, ideal for an aperitif dinner, you can prepare it 2 hours in advance but no more, do not hesitate to taste it during the preparation, the seasoning must be irreproachable for this kind of verrines. I'll give you some ideas for seasoning your beef in a verrine, but everyone will have to find their ideal mixture by playing more or less with the sauces. Choosing your supplier is vital for your beef in a verrine, my butcher always chooses noble pieces for me. He can if you want to cut it for you, but be careful not to chop it but to cut it with a knife. For this aperitif dinner, I chose to serve a 2015 Poulsard rosé discovery from the "Jacques Tissot" estate in Arbois, a snub to the wonderful, world-famous white wines of the Jura, I love my Franche Comté.
Beef in a verrine recipe for 6 people:
Ingredients
250 g sirloin steak
5 sprigs of flat-leaf parsley
2 curly chicory leaves
½ shallot
½ garlic clove
Salt
3 turns of a pepper mill
2 large caper flowers
2 teaspoons of Worcester sauce
2 to 4 drops of Tabasco
2 quail eggs
6 pickles
18 red berries
Instructions
Rinse and then dry the parsley.
Trim the beef or have it done by your butcher.
Cut the beef into small cubes, it's up to you to define the size.
Peel the garlic and shallot.
Finely chop the garlic, shallot, capers, pickles, salad and parsley.
Add the beef and quail eggs.
Salt and pepper.
Add the Tabasco and Worcester sauce.
Taste your tartare and correct if necessary.
Pour the preparation without touching the edges of the verrines and without tamping.
Place the red berries in the verrines.
Give a final round of peppercorns.
Place in the refrigerator and take out just before serving.
Preparation time: 30 minutes
Cooking time: 0 minutes
Number of people: 6
4 star rating: 1 review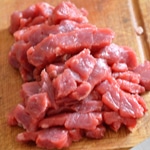 Cut the meat with a knife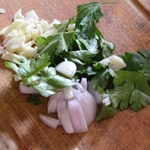 Finely chop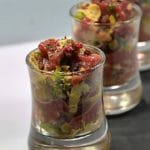 What wine to drink with: Beef in a glass
My favorite wine for this recipe: Corbières Rouge Sabran 2015 Grape Grenache
Temperature between 16 ° and 18 °
Partnership with the Chateau de Mattes-Sabran in Portel in Aube
A thought to all those connected from abroad in love with French cuisine and its wines, here is a great opportunity for you to buy a quality wine, to accompany my beef verrine recipe. I selected this Corbières Red wine from the Château de Mattes Saran estate in Portel in the Aude. After tasting it, I loved this Corbières wine from Mr and Mrs Brouillat Arnaud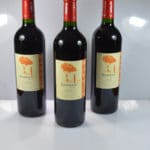 Bottles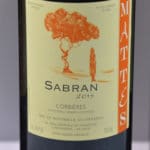 Zoom
The Sabran 2015
Grenache brings structure and a nice aromatic complexity to this wine. It will be drunk between 16 and 18 °, its ruby to purple and brilliant color, the nose of this very fruity Sabran, will accompany to Merveille a verrine of tartar beef with these 14 °. Distinguished by a favorite in 2009 from the Guide Hachette des vins, awarded with the bronze medal in 2013 by the competition of great wines of France in Macon.
Mattes Sabran Castle
Mr and Mrs Brouillat Arnaud
11490 Portel
Phone 09 77 78 21 35
Chateau de Mattes-Sabran </p