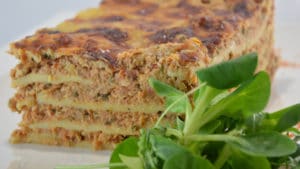 Butternut lasagna recipe
Summary : Here is a recipe that changes a bit from the classic lasagna, lasagna with vegetables (and not just any vegetable !!) from Butternut, the queen of squash. Already during the cooking the spices mixing with the flavor of the squash, the cooking was full of sweetness and I already wanted to taste them. My main concern was that my lasagna weren't too dry, well !!! don't worry, no problem on that side !! on the contrary, I found them even soft. Butternut lasagna, a different way to eat squash and especially to make the children eat it, they will love it. Of course, I played with the spices; it flavored my dish even more, the Ricotta also played a big role in this beautiful butternut lasagna. If you don't make your own dough, it's a shame, but we are starting to find quality lasagna dough in the store, but I like above all to play on the thicknesses according to the bases of my lasagna. . (Vegetarian option lasagna if you don't include the meat !!!)
Butternut lasagna recipe for 8 people:
Ingredients
1 butternut
1 kg of minced beef steak
1 teaspoon of ground ginger
1 teaspoon of raz el hanout
1 teaspoon of cinnamon
1 pinch of ground nutmeg
Salt and pepper
3 onions
500 g ricotta
1 tablespoon of thyme
2 tablespoons of soy sauce
170 g of Comté
250 g of mozzarella
100 g of Grana Padano
2 tablespoons of olive oil
For the lasagna
500 g of Type 55 flour
5 large eggs
5 g of fine salt
Instructions
Preheat the oven to 180 °.
Prepare the fresh homemade dough
Slice the butternut in half, then place it on a baking sheet.
Sprinkle the ginger, raz el hanout, powdered nutmeg and cinnamon directly on the squash flesh.
Season generously with salt and pepper.
Place in a hot oven for 1 hour.
Meanwhile prepare the lasagna sheets, if you are making them.
Peel and then cut the onions into small cubes.
Heat the oil in a pan.
Add the onions, sear them so that they become translucent.
Add and grill the meat, breaking it up in the pan.
Sprinkle with thyme.
Pour in the soy sauce, let it heat up for a few minutes.
Season with salt and pepper.
Extract the flesh of the butternut in a bowl, once it is cooked.
Combine the squash flesh and the ricotta with a fork
Assemble the lasagna, starting with a ladle of squash.
Then the pasta plates.
In the middle of the dish add the layer of meat.
Don't forget to alternate with the cheeses: Comté and Parmesan.
Finish the lasagna by cutting slices of mozzarella on the surface.
Sprinkle over the rest of the grated cheeses.
Place in a hot oven for 45 minutes.
Preparation time: 60 minutes
Cooking time: 45 minutes
Number of people: 8
4 star rating: 1 review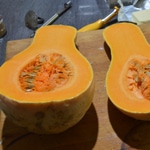 Slice the squash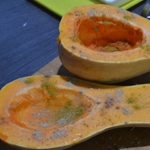 Salt and pepper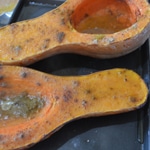 Cook in the oven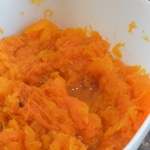 Recover the flesh
Add the onions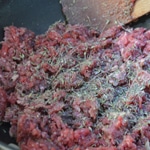 To mix together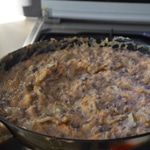 A layer of stuffing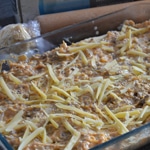 Raper the county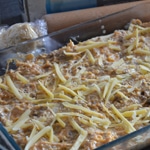 Zoom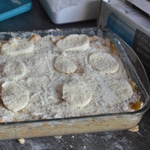 Cut mozzarella slices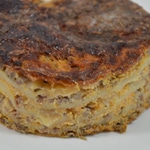 Cut mozzarella slices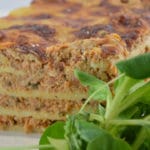 What wine to drink with: Butternut lasagna
My favorite wine for this recipe: Lalande de Pomerol Cépage Merlot noir and Cabernet Franc
Temperature between 15 ° and 18 °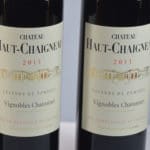 Partnership with Chatonnet vineyards in Néac in Gironde
A thought to all those connected from France or abroad in love with French cuisine and its wines, here is a great opportunity for you to buy a quality wine, without any risk, to accompany my recipe for Lasagna à la butternut. I selected this Bordeaux Château Haut Chaigneau Lalande de Pomerol 2013 wine from the Chantonnet vineyard after tasting it, I loved it.
Château haut Chaigneau 2013 Lalande de Pomerol
Dark ruby in color with shiny and even luminous reflections. Violet and small red fruits make up a bouquet of remarkable finesse. This beautiful wine, with a supple and light attack on the palate, revealing some subtle woody notes, even dry ferns. The Haut Chaigneau castle is now a reference.
Chatonnet vineyards
Chateau Haut Chaigneau
Three Woods Path
33500 Néac
Phone: 05 57 51 31 31
Email: contact [at] vignobleschatonnet.com </p